MEMPHIS, Tenn. —
Flag City Freedom Celebration -Millington - Thursday, July 1, 6pm
Millington announced details about the city's annual Flag City Freedom Celebration. The event, which takes place at Millington Sports Complex at 4885 Bill Knight Road, is scheduled for Thursday, July 1. It includes a fireworks shot and music by Sherry Oke. Gates will open at 6pm, and the fireworks will start at sundown. Parking is $5 per vehicle, and spaces are limited.
You are encouraged to bring a picnic basket and blanket, coolers, and lawn chairs. While you are welcome to bring food and drinks, they will be available for purchase. Masks are not required, but event organizers are asking that groups social distance from each other.
Bartlett Fireworks Extravaganza 2021 - Bartlett - Friday, July 2, 6pm
The Bartlett Fireworks Extravaganza will take place at the Bobby K. Flaherty Municipal Center in Bartlett, July 2, at 6:00 p.m. It's free and for all ages. Bartlett's program starts at 6 p.m. and includes live music, a car display, and food trucks. Fireworks at 9:10 p.m
Memphis Redbirds Fireworks - Memphis - Friday, July 2 - Sunday, July 4
The Memphis Redbirds will have three consecutive nights of fireworks-- Friday, July 2 - Sunday, July 4. Click here for details.
2021 Independence Day Celebration - Collierville - Saturday, July 3, 6:30pm
Food vendors will be on site starting at 6:30 p.m., entertainment is set for 7:00 p.m., and the fireworks are set for 9:30 p.m. The entertainment will include a special live performance by the Tennessee Mass Choir. The band Party Planet will also be on hand. Shuttle service will not be provided this year. The rain date is set for Monday, July 5.
Graceland's All-American July 4th Weekend - Whitehaven - Sat. July 3 - Sun. July 4
Graceland's All-American July 4th Weekend features "fun for all ages," featuring Elvis, rock 'n' roll, BBQ, movies, a Bill Cherry concert, Sunday gospel brunch, hidden Graceland tours, and, of course, fireworks.
Memphis July 4th Spectacular - Memphis - Sunday, July 4, 2pm
Celebrate July 4th on the riverfront in downtown Memphis. There are free family-friendly activities and a fireworks finale. Fireworks start at 9pm, but there are lots of entertainment options at Mud Island and River Garden beginning at 2pm. Click here for details.
Germantown Fireworks Extravaganza -Germantown - Sunday, July 4, 5pm
Germantown Fireworks Extravaganza 2021 is set for July 4 Municipal Park, 1900 S. Germantown Road. A performance from the G3 band, crafts and concessions will begin at 5 p.m. The Memphis Wind Symphony will perform at 7:30 p.m. and the grand finale fireworks show will start at 9:10 pm.
Please note that several roads will be closed. Sunday, July 4, Exeter Road, from Farmington Boulevard to Neshoba Road, will close at 2 p.m.; Farmington Boulevard, from Germantown Road to Exeter Road, will close at 5 p.m.; Neshoba Road, between Germantown Road and Boulinwood Lane, will close at 5 p.m. for vehicle traffic and 8:30 p.m. to pedestrian traffic. Please note that Neshoba and Exeter Roads may be closed up to an hour after the event has concluded.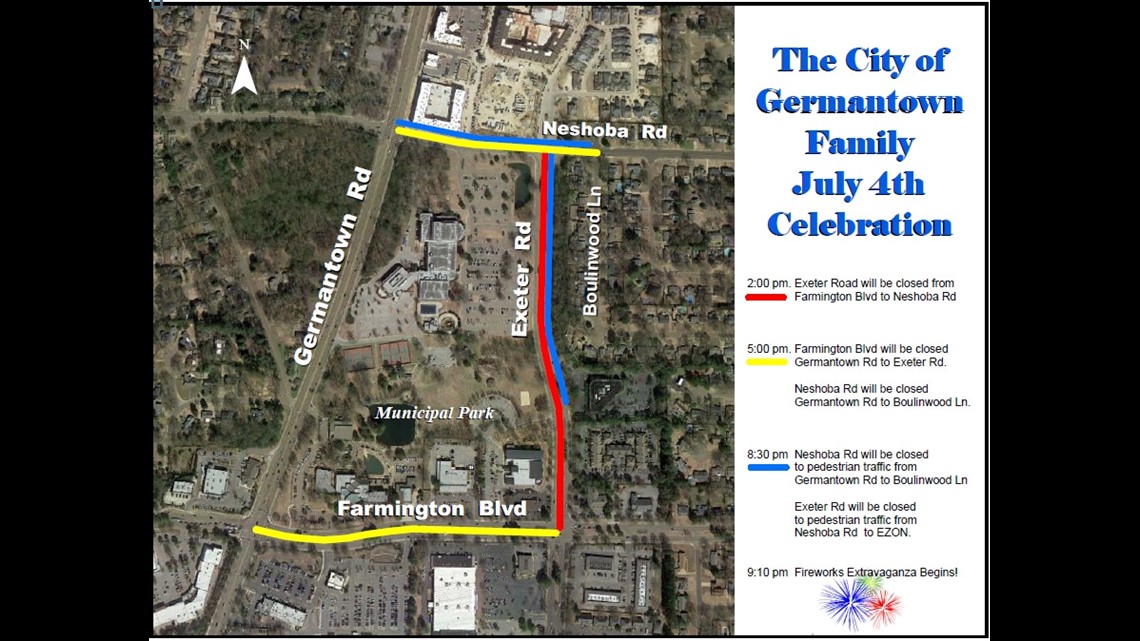 Fourth of July fireworks celebration, for Black and Brown pride
When: July 3, 3 PM
Where: 3110 S Mendenhall, Memphis, TN 38115
Community members from around Hickory Hill converge at Mendenhall Plaza to eat, drink, dance and watch a fireworks display. Many laude the event as an accessible alternative to downtown fireworks that celebrates Black and Brown pride.
In the past, the event, which is coordinated with local police and business, has drawn 500 attendees. This year event planners expect it to be even larger, as excitement to get outside increases as pandemic fears ebb.
Cannon demonstrations at Shiloh National Military Park
On Saturday, July 3, and Sunday, July 4, Shiloh National Military Park will present cannon firing demonstrations in commemoration of the July 4th weekend. The scheduled demonstrations will be presented by the Shiloh Cannon Crew, firing a 6-pounder gun, across the street from the park visitor center.
On Saturday there will be five demonstrations at 10:00 am, 11:00 am, 12:00 pm, 1:30 pm and 2:30 pm. On Sunday, there will be four demonstrations at 11:00 am, 12:00 pm, 1:30 pm, and 2:30 pm. Each demonstration will last approximately 20-minutes and include two cannon firings.
All demonstrations are free and open to the public. There is no mask mandate for vaccinated visitors in open spaces. The park visitor center and bookstore are open normal operating hours from 8:00 am – 5:00 pm daily. Find more about Shiloh HERE.