MEMPHIS, Tenn. (localmemphis.com) – UPDATE 11/27/2019 – If you want "all the smoke" in your next barbecue, here's yourchance to get some. Penny Hardaway's new barbecue sauce with Corky's is now availableduring a limited release.
A team at Corky's worked with the Tigers basketball coach tocreate a sauce that met his flavor – a traditional Memphis-style sauce with atouch of honey.
The sauce is based on a saying from Hardaway after getting thenumber-1 recruiting class in May.
"We couldn't be more excited about it. You know,Penny, like I said, he's an unbelievable spokesperson for this city, and tohave him tied to Corky's – I tell people Penny's like the modern-day ElvisPresley in this city. Everyone loves him, and we're excited to have himassociated with Corky's," said Chip Williams, Marketing & Public RelationsCoordinator, Corky's BBQ.
The sauce is available at the four Memphis-area Corky'slocations for about $5 a bottle. It will be available in grocery stores afterthe new year.
11/25/2019 – A new collaboration between Memphis Tigers basketball coach Penny Hardaway and Corky's Barbecue is bringing all the smoke.
Hardaway, who is a spokesperson for the chain, will soon release abrand-new signature barbecue sauce to buy for the holidays this week. The nameof the savory condiment is "Penny's All the Smoke Bar-B-Q Sauce."
The name is part of the coach's quote from his press conferenceafter signing the nation's number-1 recruiting class in May, and was the themeof this year's Memphis Madness.
According to Corky's spokesperson on Twitter, the barbecue chain is selling a very limited number of sauces online and at the four Memphis area locations starting Wednesday, and they won't have any more until after the new year.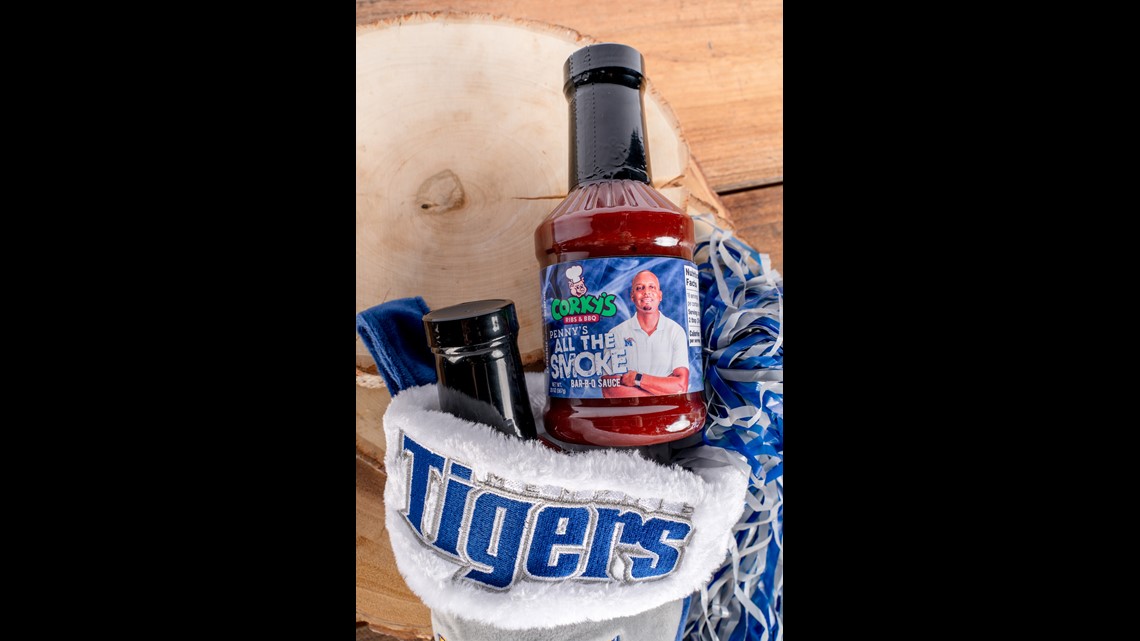 (Corky's Ribs & BBQ NEWS RELEASE)—a family-owned Memphis tradition since 1984—is excited to announce a partnership and co-branded barbeque sauce with native Memphian and current University of Memphis head men's basketball coach Anfernee "Penny" Hardaway. Corky's worked with Coach Hardaway to create a sauce that met his flavor profile, and after tasting numerous options, we found one that fit perfectly. Penny's All the Smoke BBQ Sauce will be available at the four Memphis-area Corky's locations for $4.99 per bottle and can be shipped nationally online in bundles of three for $24.99 or 12 for $59.99—price includes shipping—at corkysbbq.com beginning Wednesday, Nov. 25. The All the Smoke sauce bottles will be available in Memphis-area grocery stores in the weeks to follow.

"Corky's has been in Memphis serving barbecue to Memphians and visitors for over 35 years, and we believe there's not a better spokesperson for the city, or for Corky's, than Penny Hardaway," said Barry Pelts, co-president of Corky's BBQ. "What Penny has done in a short period of time with the men's basketball program—generating excitement for the team, university and city—is nothing short of exceptional. We couldn't be prouder or more excited to have him working with Corky's, and we are looking forward to a great partnership."

– Corky's Ribs & BBQ