*Portions of the jury selection livestream will not have audio per an order from the judge.
Jury selection for the three men accused of murder in the death of Ahmaud Arbery continues Wednesday.
Arbery was shot and killed on Feb. 23, 2020. Cellphone video leaked to the public shows two armed white men in a truck approaching the 25-year-old Black man as he runs down the road. One of the men, later identified as Travis McMichael, and Arbery struggle over McMichael's shotgun before Arbery is shot and collapses.
Travis McMichael, his father Gregory McMichael and William "Roddy" Bryan, who recorded the video, are all charged with murder in Arbery's death.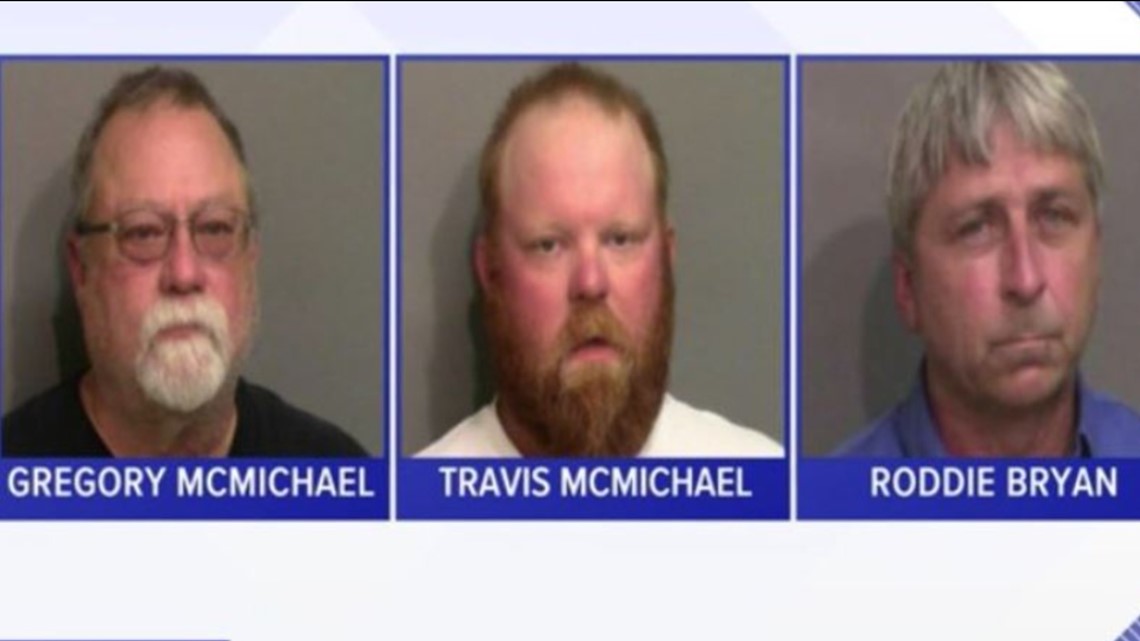 Bookmark this page for live updates on the trial as they unfold.
Day 4
8:57 a.m.: Judge Walmsley and the attorneys in the case are in the courtroom for a hearing on a motion by WXIA-TV of Atlanta, WMAZ-TV of Macon and WJXX/WTLV-TV of Jacksonville (First Coast News), opposing the judge's partial gag order on the attorneys in the case. The order prohibits attorneys from discussing evidence Walmsley has already ruled cannot be admitted in the trial, such as Arbery's mental health records. The judge did not rule in court. He said he will issue a written order later.
Day 3
7:00 p.m. Seven jurors move on to the next round of questioning, joining the eight that passed the first round of questioning Tuesday. That makes 15 of the 64 jurors required to move to the next round.
There have been 37 total jurors dismissed over the three days of jury selection.
2:13 p.m.: Several potential jurors are being struck because they have already formed an opinion about the case and tell the judge they cannot be impartial. Juror 170 says he has a negative opinion about Bryan, and is likely to be excused because he is over 70 years old and does not want to serve.
11:14 a.m.: The individual voir dire portion of questioning begins with Juror 138, who appears to be a Black man in his 40s. He has been a supervisor for 34 years running a production line. He knows former DA Jackie Johnson from a previous experience serving jury duty and knows a few other potential jurors. Has no firearms in his home. He's originally from California, but has lived in Glynn County for 32 years since age 14.
Juror 138 says he has had a good experience with law enforcement. "When I have a problem with my house, they always respond on time," he says. He has dealt with neighbors and property damage from teens, calling the Glynn County Police Department for help.
Juror 138 tells Franklin Hogue he has seen the video of Arbery's death six times on the news but has not sought it out. Based on the video, he believes Arbery was "minding his own business" while out for a jog when he "got interrupted." He agrees with Hogue that the video tells the whole story. Hogue notes on his questionnaire he wrote "guilty, they killed him."
"You could not give fair consideration to a self-defense claim?" Hogue asks.
"No," Juror 138 he responds, later agreeing that this is his "definite and fixed opinion."
When asked by Kevin Gough if he believes Bryan also killed Arbery, the juror says "They did it as a team."
Gough asks Juror 138 if they know each other, because they share a lot of friends on Facebook. He responds that it is a possibility, stating he works six or seven days a week and doesn't get outside much.
Juror 138 rejoins the panel. Sheffield notes for the record that the juror appeared to give a thumbs up to Marcus Arbery Sr. when he was leaving the courtroom. Arbery nodded in response.
Sheffield says that is grounds for being removed from court. The judge says he did not witness the exchange, but cautions about interactions between potential jurors and those in the courtroom.
Sheffield then moves to strike the juror for cause. Gough says he would want this juror on any other case.
Walmsley agrees to strike him for cause because he was definite in his position on the video telling the whole story, believes the defendants were guilty and indicated he could not consider self-defense.
Juror 139 appears to be a white man in his 40s. He is a security guard, both armed and unarmed, and has worked in that field for six years. He identifies as a law enforcement officer but does not have arrest powers. He is originally from North Carolina. He is his father's primary caretaker, and it is highly unlikly someone will be able to take care of his father if he is selected for jury duty. Juror 139 rejoins the panel. The state moves to strike him, the defense consents and the judge strikes him.
10:32 a.m.: Walmsley begins by reassuring the potential jurors the court understands their concerns about safety, explaining the voir dire process and swearing them in.
Nearly a dozen potential jurors raise their hands to indicate they have formed or expressed an opinion about the case. Five say their "mind is not perfectly impartial" between the state and the defense.
Several indicate they know some of the high-profile figures or witnesses involved in the case. Juror 146 and 161 knew Arbery, and jurors 164 and 172 know his father. Juror 161 says he personally knows one of the defendants. Jurors 172 and 175 know Amy Elrod, William Roddie Bryan's fiancee.
Three jurors say they know of defense attorney Kevin Gough. Several know Chief Rod Ellis. Juror 150 says he knows current Brunswick District Attorney Keith Higgins. Two know former DA Jackie Johnson.
Several potential jurors indicate they know each other.
Several served in the military or have prior law enforcement training or experience.
A few have been victims of burglary or home invasion or know someone who has.
When asked if anyone wants to serve on the jury, no one raises their hands. Two jurors raise their hands to indicate they are over 70 years old and do not wish to serve, and several others indicate they have a hardship or conflict that may prevent them from serving.
Several potential jurors indicate to defense attorney Jason Sheffield that they have negative feeling about Travis McMichael, Gregory McMichael and Bryan. None say they have participated in racial justice demonstrations.
One juror has concerns about being identified by the media. Sheffield and Walmsley reassure him that all jurors will remain anonymous. When Sheffield asks the group later if serving on the jury will cause a problem in their life, no one raises a hand.
After a short recess, Arbery's father arrives. Several jurors indicate they support Black Lives Matter and a few say they feel people of color are treated differently by the criminal justice system. None of the jurors say they feel the former Georgia state flag is a racist symbol.
A few potential jurors say psychiatrists can find mental illness in just about anybody.
The court adjourns to another recess before the individual voir dire portion of jury selection.
10:23 a.m.: Ahmaud Arbery's father walks into the courthouse after hugging, chanting with supporters. "I love my people!" Marcus Arbery Sr. said. "We want justice!"
9 a.m.: The third day of jury selection begins just after 9. Superior Court Judge Timothy Walmsley is on the bench in the assembly room as attorneys question panel No. 4. Panel No. 3, which would have been Tuesday's afternoon group, was completely released, according to the pool reporter. Walmsley tells the group juror No. 162 will possibly defer due to medical issues.
Day 2
5:57 p.m. Court adjourns for the day. Judge Walmsley tells potential jurors not dismissed that they must be available and must not discuss the case.
In all, 12 jurors were dismissed. The other eight are qualified, though have not been chosen for the jury.
"You remain as qualified jurors in this case and until instructed otherwise by the court," Walmsley said. "At a minimum, until otherwise instructed by the court you are potential jurors."
5:41 p.m. Juror 73 is dismissed as she believes the McMichaels are guilty.
4:54 p.m. Juror 88 says he believes the McMichaels' actions were excessive and unjustified based on the video. He is dismissed.
Juror 89 tells attorneys she believes the McMichaels are guilty and says being on the jury would be difficult due to family issues. She says she would try to be fair and impartial. She is dismissed.
4:20 p.m. Juror 79 tells attorneys she believes police sometimes profile Blacks. She says she is uncomfortable with the amount of cameras, but can be fair and impartial.
3:59 p.m. Juror 76, a gun owner, says he is somewhat knowledgeable on the facts of the case and said he could be impartial. He said he does get emotional at times. He once served on a jury.
3:57 p.m. Demonstrators visit Satilla Shores, where Arbery was killed.
2:28 p.m. Attorneys question Juror 72, a BLM supporter who says Arbery's death "wasn't justified" and believes his death was a hate crime. However, she said she could put aside what she's seen about the case to give the defendants a fair trial.
2:13 p.m. Juror 65 and Juror 69 dismissed for cause. Five jurors have been questioned while four have been struck for cause.
Judge shifts panel schedule. Panel 4 will come in Wednesday morning, Panel 5 will move to next Thursday morning.
1:11 p.m. Attorneys speak to Juror 62, whose father is a friend of Gregory McMichael and is an aspiring police officer. Juror 56 dismissed for cause.
Judge Walmsley continues to grow frustrated by the pace of selection. The second panel of 20 jurors was sent home.
"I am not comfortable with this," Judge Walmsley said. "At the rate we're going, all these plans we have to move these panels through are not going to work."
12:15 p.m. Attorneys speak to Juror 52 who says she sees the "good and bad" in law enforcement. She also told attorneys she has followed the case and shared articles on Facebook, but has not "extensively" followed it.
12:10 p.m. Attorneys consider five more jurors, including an elderly man, another man who said he had been influenced by the media on the case, a woman whose husband knows Bryan, and a woman whose husband is "adamantly against the defendants." The fifth juror was dismissed who said all three should be convicted of all counts and had participated in demonstrations.
Judge Walmsley grows frustrated by the pace of questioning, urging the attorneys to speed up the process.
11:57 a.m.: So far, 12 potential jurors were dismissed Monday, and three thus far on Tuesday. Juror 50 was dismissed, under agreement from both sides of the case, with no cause given.
11:55 a.m.: Juror 48 is dismissed. She is a young woman who is hearing impaired with no reliable transportation to and from court. "I saw the news footage and I saw the video footage of the crime, and I've already formed a guilty opinion of the crime," Juror 48 says. "I think that they're guilty."
11:50 a.m.: One potential juror out of the pool of 20 people questioned is dismissed. He is a Black man who says he has participated in racial justice demonstrations.
11:25 a.m.: Outside the courtroom, demonstrators are gathered to support Arbery. A small child takes the mic, saying "Who are we here for?" as the crowd chants back "Ahmaud Arbery!"

9:34 a.m.: Four people say they have negative feelings about Travis McMichael. Three same the same about Gregory McMichael. Two say the same about Bryan. None of the people questioned Tuesday have negative feelings about criminal defense attorneys.
9:00 a.m.: So far, one potential juror says they personally know Greg McMichael. Another knows Bryan personally. One knows Gregory McMichael's wife personally. Another knows Arbery's father.
8:57 a.m.: One person says he/she knows current Brunswick DA Keith Higgins. One knows former Brunswick DA Jackie Johnson.
8:44 a.m.: Judge begins process of explaining questioning method to potential jurors.
8 a.m.: Day two of questioning potential jurors is scheduled to begin. Eight candidates remain from the 20 who were questioned Monday. A new round of 20 will be questioned beginning at 8 a.m. Tuesday.
Photos: Ahmaud Arbery supporters turn out at Brunswick, Ga. courthouse