MEMPHIS, Tennessee — COVID-19 is a new strain of coronavirus and cases are spreading around the Mid-South since the virus arrived in the United States in February.
At Local 24, our coverage of the coronavirus is rooted in Facts, not Fear. Visit our coronavirus section for comprehensive coverage, find out what you need to know about COVID-19, learn more about the symptoms, and keep tabs on the cases around the world here.
We will continue to track the most important coronavirus elements relating to Memphis and the Mid-South on this page. Refresh often for new information
LIVE UPDATES
A look at COVID-19 numbers in Memphis and Shelby County for September 15th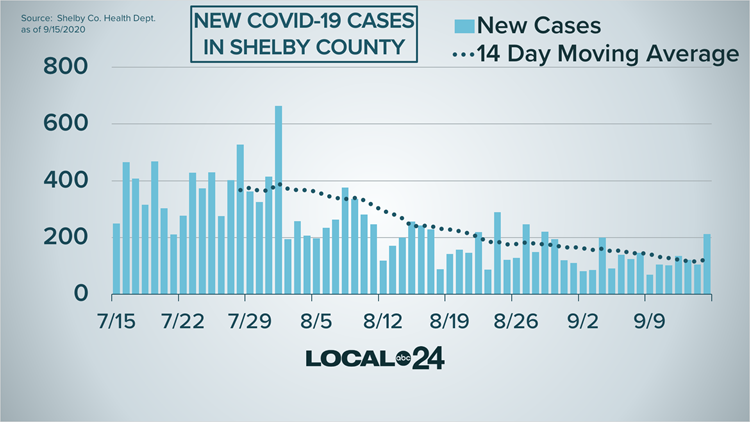 -------------------------------------------------------
University of Memphis delays additional face-to-face classes due to COVID-19 cases
3:00 p.m. - (University of Memphis Release) - As we work with the Shelby County Health Department to gain a full and accurate understanding of recent COVID-19 cases, and in an effort to guard against any potential spread, we will maintain campus density at current levels and not add additional face-to-face classes next week as originally scheduled.
We will continue to monitor available data and consider any adjustments that would increase the density on our campus only after we are sure that the rates of infection are stable or declining. A target date for the next review will be the beginning of October at the earliest.
As we have done throughout the course of this pandemic, all decisions are driven by the latest health information with the safety of our faculty, staff and students being paramount. For the latest updates, visit memphis.edu/coronavirusupdates.
---------------------------------------------
957 new cases & 30 new deaths in TN; more than 158,000 recoveries
2:00 p.m. - The Tennessee Department of Health reports 957 new COVID-19 cases and 30 new deaths, for a total of 175,231 cases and 2,127 deaths in the state.
There are currently 762 hospitalizations, and 158,660 recoveries. 2,510,091 have been tested in the state.
---------------------------------
WATCH: Arkansas Gov. Asa Hutchinson gives update on COVID-19 in the state
------------------------------------------
Two COVID-19 clusters being investigated at University of Memphis
1:00 p.m. - The Shelby County Health Department confirmed they are investigating two COVID -19 clusters at the University of Memphis. One cluster is connected to the football team. There is a second cluster being investigated as well, though at this point not much information is being released about the second cluster. SCHD said the second group does share some activities such as training.
It was also announced at Tuesdays news conference that there are other University of Memphis staff/students who are COVID-19 positive but not part of either clusters. The campus case count is 36.
During Tuesday's Joint COVID Task Force news conference. the SCHD discussed concerns about Tuesday's spike in case counts - with 213 new cases, up from the 120 or so Shelby County has been averaging for the past few weeks. We are one week past Labor Day so officials want to see if this is a trend connected to the holiday or just a random rise in the numbers.
They are also concerned the "R" rate, also known as the reproductive rate, has risen to .94, which is higher than it has been recently. The "R" rate is also known as the transmission rate. That means for every one person who has COVID-19, they are transmitting it to almost one person.
One highlight of the news conference, Dr. Bruce Randolph said if trends continue, we could see some loosening of restrictions. One possibility Randolph mentioned was opening "Limited Service Restaurants" which have been closed since July. Randolph said if they were allowed to reopen, they would have to follow the same rules and restrictions as "Full Service" restaurants. Full service restaurants have been allowed to be open for business.
-------------------------------------------
WATCH: Memphis & Shelby County COVID-19 Task Force briefing
-----------------------------------------------
Christ Community Health to offer free walk-up COVID-19 testing
11:45 a.m. - Christ Community Health is offering free walk-up testing Thursday, September 17th.
It runs from 10:00 a.m. until noon at Christ Community Orange Mound Health Center at 2569 Douglass Ave.
Pre-Registration is suggested but not necessary: Text: Test2020 to 91999.
---------------------------------------
505 new cases & 28 new deaths in MS; 51 new cases in Desoto County
10:05 a.m. - The Mississippi State Department of Health reports 505 new COVID-19 cases and 28 new deaths, for a total of 90,523 cases and 2,734 deaths in the state.
Desoto County has 51 new cases and no new deaths, for a total of 5,224 cases and 53 deaths in the county.
--------------------------------------------
213 new cases & no new deaths in Shelby County; more than 27,000 recoveries
10:00 a.m. - The Shelby County Health Department reports 213 new COVID-19 cases and no new deaths, for a total of 29,330 cases and 424 deaths in the county.
There have been 27,368 recoveries in the county.
--------------------------------------------
Mid-South Food Bank mobile pantry locations for Tuesday
Memphis, Pentecostal MB Church, 1538 Norris Rd. 38106, 11 a.m.
Fayette Cty, TN- 490 Lagoshen Moscow 38057, 9 a.m.-11 a.m.
Panola Cty, MS- Crenshaw Baptist Church, 235 Missouri Ave. Crenshaw 38261, 10 a.m.
-----------------------------------------
The symptoms of coronavirus are similar to the flu or a bad cold. Symptoms include a fever, cough and shortness of breath, according to the Centers for Disease Control.
Most healthy people will have mild symptoms. A study of more than 72,000 patients by the Centers for Disease Control in China showed 80-percent of the cases there were mild.
But infections can cause pneumonia, severe acute respiratory syndrome, kidney failure and even death, according to the World Health Organization. Older people with underlying health conditions are most at risk.
The CDC believes symptoms may appear anywhere from two to 14 days after being exposed.
Wash your hands often with soap and water for at least 20 seconds. If soap and water are not available, use an alcohol-based hand sanitizer.
Avoid touching your eyes, nose, and mouth with unwashed hands.
Avoid close contact with people who are sick.
Clean and disinfect frequently touched objects and surfaces.
If you are 60 or over and have an underlying health condition such as cardiovascular disease, diabetes or respiratory illnesses like asthma or COPD, the World Health Organization advises you to try to avoid crowds or places where you might interact with people who are sick.