MEMPHIS, Tenn. — Boxtown community members are organizing to save their bus ride as MATA looks to change bus routes next month.
Citizens for Better Service, Boxtown Neighborhood Association and the Memphis Bus Riders Union expect to gather at White's Chapel A.M.E. Church at 7:15 a.m. for a "Save Our Bus" ride.
They say reducing and changing bus routes hurts already underserved areas.
"If it's gone then you're going to have people having a difficult time getting to their destination, work, school, to their doctor's office to the grocery store," Johnnie Mosley, Citizens For Better Service Founding Chairman, said.
Under the MATA changes, the 38 Boxtown bus route would be eliminated and replaced with the Ready! service. MATA's Route 69 will change stops to service most of the #38 route.
Ready! is a service launched this summer by MATA that offers a "curb to curb" service. Since its launch, the program has had close to 9,000 boardings, according to a MATA spokesperson.
The MATA changes are expected to begin Nov. 7. It implements changes to 20 routes detailed here.
During the "Save Our Bus" community members took a roundtrip on the 38 Boxtown route to advocate for it staying.
According to MATA, the fixed-routes being cut have fewer riders. A spokesperson said MATA has been tested during the pandemic and faces a workforce shortage.
A statement provided by MATA says the fall changes improve bus performances for riders.
"MATA implements service modifications three times a year, usually in Spring, Summer, and Fall. These modifications are based on the Transit Vision, analysis of transit ridership patterns, economic development factors, and community feedback. Like many other transit agencies and businesses, our organization has been severely tested by the COVID-19 pandemic, national workforce shortages - but throughout this time we have worked hard to keep our community moving. Our approved Fall modifications look to improve on-time performance, increase service reliability, and support ridership. Approved modifications and service redesign in the Boxtown and Westwood community support shorter wait times and provide additional connections while continuing to provide fixed route coverage with Route 69 and on-demand service.
MATA recently launched an on-demand micro-transit program, Ready!, which allows passengers to request a ride on demand through a mobile app or by a designated phone number. The Ready program has seen much success since its launch with close to 9,000 boardings. The vehicles, much smaller than a typical fixed route bus, take passengers curb-to-curb within designated zones. The program, which launched in early August in Southwest Memphis which includes the Boxtown and Westwood communities, is on the leading edge of a transit industry trend toward microtransit services that provides more flexibility for passengers . In addition, microtransit provides an opportunity for MATA to efficiently manage its current resources."
Below are the current routes in Boxtown: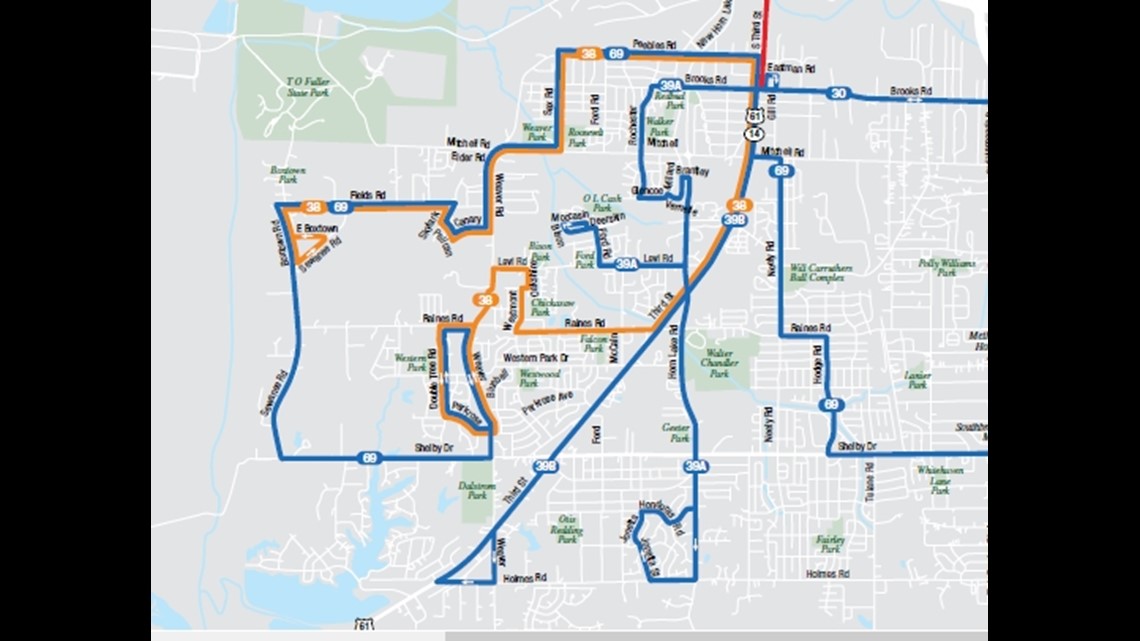 Below is the MATA routes for Boxtown beginning Nov. 7: