MEMPHIS, Tenn. — As of Friday morning, the five officers indicted on charges in the death of Tyre Nichols have been released from jail after posting bail. All five are due in court Feb. 17, 2023 at 9 a.m.
Shelby County District Attorney General Steve Mulroy said Thursday video of the confrontation between Tyre Nichols and Memphis Police will be released by the city after 6 p.m. Friday, Jan. 27, 2023.
During a news conference Thursday afternoon, Mulroy said - by his understanding - it would be a combination of SkyCop video and body cam video. He said the city is in charge of releasing the video.
"We did work quickly to expedite this investigation because of the extraordinary nature of the case compared to the average investigation and prosecution decisions. In a case like this. We worked swiftly but also fairly, and most importantly, in a way calculated to ensure that we have a strong case," he said.

During the news conference, TBI Director David Rausch said, "The video is absolutely appalling. This does not reflect policing. What I saw was sickening."
Mulroy continued, "While each of the five (former Memphis Police officers) played a different role, the actions of all of them resulted in the death of Tyre Nichols and all of them are responsible."
Mulroy also said the investigation is ongoing and additional charges could be pending.
Memphis Mayor Jim Strickland tweeted out a video Thursday afternoon following the news conference, thanking MPD Chief CJ Davis for moving quickly and DA Mulroy for "taking deliberate actions in bringing these indictments forward."
Five former MPD officers indicted & charged
This comes after all five former Memphis Police officers who were fired following the death of Tyre Nichols were indicted on charges and booked into the Shelby County Jail Thursday morning.
The officers were fired last week after MPD said they were found to be "directly responsible for the physical abuse of Mr. Nichols." They were identified as Demetrius Haley, Tadarrius Bean, Emmitt Martin III, Desmond Mills, Jr. and Justin Smith.
Haley, Smith, Bean, Mills, and Martin are each charged with second degree murder, aggravated assault – acting in concert, aggravated kidnapping causing bodily injury, aggravated kidnapping while possessing a weapon, official misconduct thru unauthorized exercising of official power, official misconduct thru failure to perform a duty imposed by law, and official oppression.
The TBI said all five are in custody in the Shelby County Jail. Bond for Haley and Martin was set at $350,000, while bond for Bean, Mills and Smith is set at $250,000.
Charges explained
Mulroy explained the charges during his news conference, saying second-degree murder is a knowing killing, and appropriate in this case.
In a news release, the D.A. said "first-degree murder usually falls into one of the following two categories: Premeditated, intentional killings and felony murder. Second-degree murder is generally either an unplanned, intentional killing (reacting in the heat of the moment when angry) or a death caused by a reckless disregard for human life."
He said if it was a legal detention, it became illegal at some point... and aggravated means that someone was harmed.
Mulroy said official misconduct means they intentionally or knowingly exercised unlawful authority, and that law enforcement officers should prevent misconduct.
Mulroy said official oppression is knowing mistreatment during the course of carrying out official duties.
Nichols' family reaction to indictments
Attorneys for Nichols' family issued the following statement on the indictments:
"The news today from Memphis officials that these five officers are being held criminally accountable for their deadly and brutal actions gives us hope as we continue to push for justice for Tyre. This young man lost his life in a particularly disgusting manner that points to the desperate need for change and reform to ensure this violence stops occurring during low-threat procedures, like in this case, a traffic stop. This tragedy meets the absolute definition of a needless and unnecessary death. Tyre's loved ones' lives were forever changed when he was beaten to death, and we will keep saying his name until justice is served."
ABC24 has learned Attorney Bill Massey represents former officer Emmitt Martin, and Desmond Mills Jr. is now being represented by Criminal Defense Attorney Blake Ballin. Ballin has scheduled a news conference for 3:30 p.m. Thursday.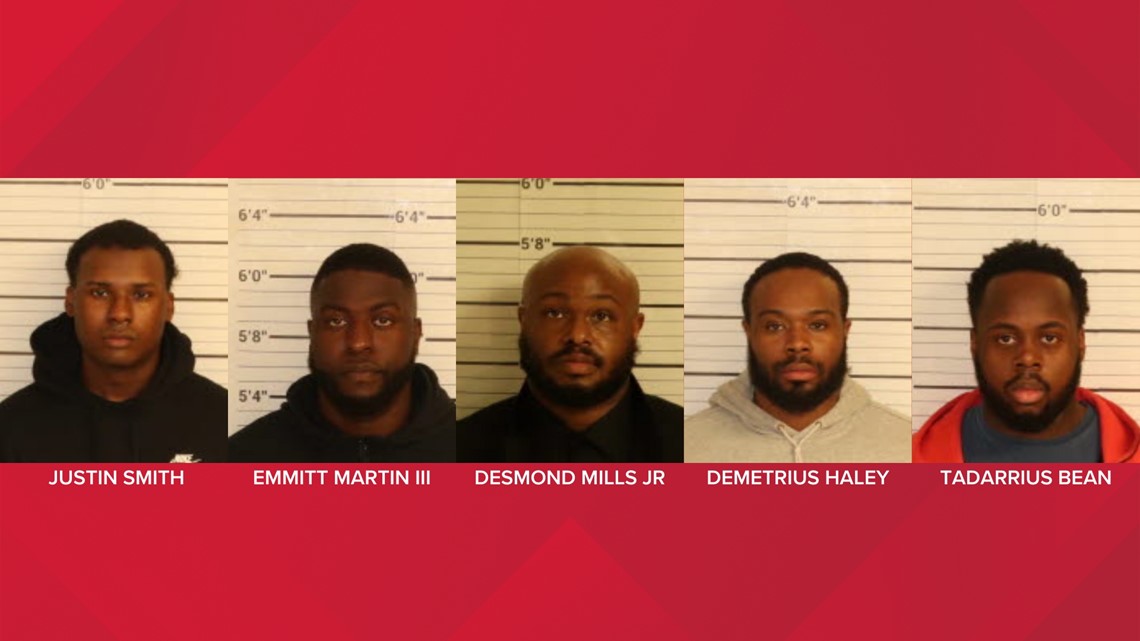 President Biden issues statement on case
President Biden issued the following statement Thursday afternoon:
"Jill and I extend our heartfelt condolences to the family of Tyre Nichols and the entire Memphis community. Tyre's family deserves a swift, full, and transparent investigation into his death.
As Americans grieve, the Department of Justice conducts its investigation, and state authorities continue their work, I join Tyre's family in calling for peaceful protest. Outrage is understandable, but violence is never acceptable. Violence is destructive and against the law. It has no place in peaceful protests seeking justice.
Public trust is the foundation of public safety and there are still too many places in America today where the bonds of trust are frayed or broken. Tyre's death is a painful reminder that we must do more to ensure that our criminal justice system lives up to the promise of fair and impartial justice, equal treatment, and dignity for all.
We also cannot ignore the fact that fatal encounters with law enforcement have disparately impacted Black and Brown people.
To deliver real change, we must have accountability when law enforcement officers violate their oaths, and we need to build lasting trust between law enforcement, the vast majority of whom wear the badge honorably, and the communities they are sworn to serve and protect.
That is why I called on Congress to send the George Floyd Justice in Policing Act to my desk. When they didn't, I signed an executive order that included stricter use of force standards and accountability provisions for federal law enforcement, as well as measures to strengthen accountability at the state and local level.
Today, we all must re-commit ourselves to the critical work that must be done to advance meaningful reforms."
Updates on the investigation
The Tennessee Bureau of Investigation said the five officers surrendered to TBI agents Thursday morning. According to TBI, the officers were involved in two separate incidents with Nichols, one when he was stopped by police at 8:22p.m. on Jan. 7, and the second a short time later around Castlegate Lane and Bear Creek Cove. The TBI provides updates at https://tbinewsroom.com/.
MPD Chief's late night video statement
In a social media video posted late Wednesday night, Memphis Police Chief Cerelyn "CJ" Davis called the actions of the five officers involved in the violent arrest of Tyre Nichols "heinous, reckless and inhumane" and made a plea to residents of the city to protest peacefully when video of the arrest is released to the public.
Chief Davis said other officers are still being investigated for violating department policy. In addition, she said "a complete and independent review" will be conducted of the department's specialized units, without providing further details.
"This is not just a professional failing. This is a failing of basic humanity toward another individual," said Chief Davis in the video.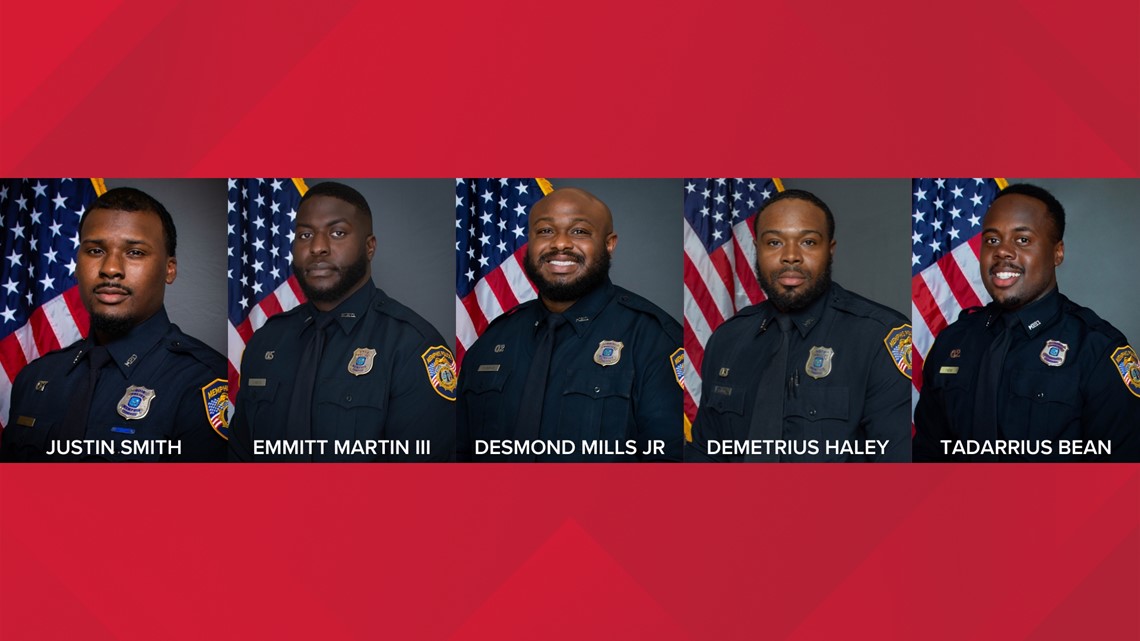 As state and federal investigations continue, she promised "full and complete cooperation" from the Memphis Police Department to determine what contributed to Nichols' death three days after his Jan. 7 arrest.
Family on what they saw in video
Ben Crump, the civil rights attorney representing Nichols' family, said police video the family viewed Monday showed Nichols — a 29-year-old FedEx worker and father — was shocked, pepper-sprayed and restrained when he was pulled over for a traffic stop near his home. The legal team said officers beat Nichols for three minutes in a "savage" encounter reminiscent of the infamous 1991 police beating of Los Angeles motorist Rodney King. Antonio Romanucci, a Civil Rights Lawyer who is a part of Crump's team, said the officers beat Nichols "like a human piñata."
Relatives have accused the police of causing Nichols to have a heart attack and kidney failure. Authorities have only said Nichols experienced a medical emergency.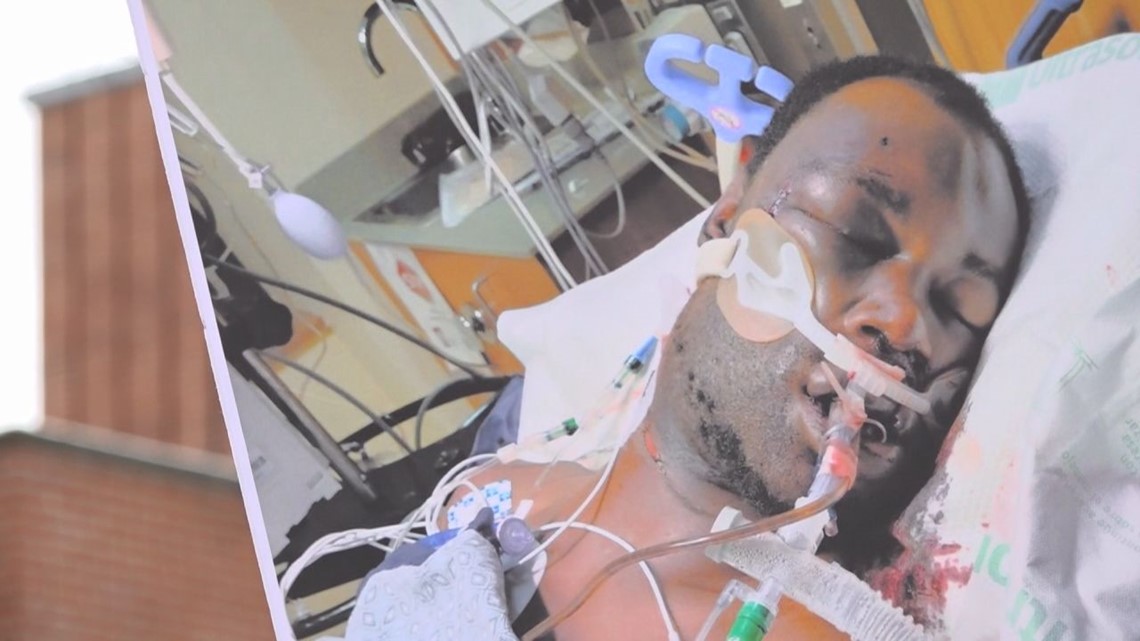 Preliminary autopsy results
The Crump legal team requested an independent autopsy, and said preliminary findings "indicate Tyre suffered extensive bleeding caused by a severe beating, and that his observed injuries are consistent with what the family and attorneys witnessed on the video of his fatal encounter with police on January 7, 2023. Further details and findings from this independent report will be disclosed at another time."
The Associated Press contributed to this report.