MEMPHIS, Tenn. — Funeral services for Tyre Nichols are set for Feb. 1, 2023, at Mississippi Boulevard Christian Church, with Rev. Al Sharpton set to deliver the eulogy, according to Sharpton's National Action Network (NAN).
Attorney Ben Crump, who is representing Nichols' family, is set to deliver the call to action.
The funeral is set for 10:30 a.m. Wednesday, Feb. 1, at the church at 70 N Bellevue Blvd.
Word of the funeral services comes after Rev. Sharpton issued a statement, demanding "swift charges" against the five Memphis Police officers who were fired following Nichols' death.
"Firing these officers for misconduct is not enough. Justice will only be served when all five are charged with killing Tyre Nichols for the simple act of driving while Black. I have spoken to Tyre's family, offered my support, and told them I plan to travel to Memphis in the coming days," said Sharpton in the release.
"The fact that these officers are Black makes it more egregious to those of us in the Civil Rights movement. These officers should not be allowed to hide their deeds behind their Blackness. We are against all police brutality – not just white police brutality. A message must be sent that these lethal levels of force will not be tolerated, ensuring that perpetrators of this violence cannot use their badge to shield themselves from prosecution, so that Tyre's four-year-old son can grow up in a world where he does not have to live in fear of those who are supposed to protect and serve us. Authorities must be transparent, which is why it is imperative they release the footage as soon as possible. Thirty-two years after the nation called for us to do better after the brutal beating of Rodney King in Los Angeles, our leaders failed Tyre Nichols, Terence Crutcher, and countless others."

Wednesday morning, U.S. Attorney for Western Tennessee Kevin G. Ritz held a news conference on the federal investigation into Nichols' death of Tyre Nichols. He said he spoke with Nichols' family, saying "I told the Nichols family that we care deeply about constitutional rights across America and we have opened a federal civil rights investigation."
Ritz said the investigation will be "thorough" and "methodical" and will continue until they gather all of the relevant facts.
Ritz said state and local authorities will determine the timing of the release of the video. He said on behalf of the federal authorities, they want people to express their right to be heard, but they want them to do so "in a peaceful and non-violent way."
FedEx, where Nichols worked, released the following statement Wednesday: "We are shocked and saddened by the loss of our team member, Tyre Nichols, and our thoughts are with his family, friends, and co-workers. As this is an active investigation, additional questions should be directed to the investigating authorities."
"I have to be careful commenting about specific facts of the case particularly before we're even ready to release the video," Mulroy said.
Crump released a statement Tuesday saying that a forensic pathologist who was hired by the family conducted an independent autopsy that showed extensive internal bleeding. The statement did not state a cause of death or include the independent pathologist's report. The statement said further details would be released later. Tennessee authorities have not released an autopsy of Nichols.
Relatives have accused the police of causing Nichols to have a heart attack and kidney failure. Authorities have only said that Nichols experienced a medical emergency.
Release of the video could coincide with a decision on whether to charge five Memphis Police Department who have been fired from the force for their involvement in Nichols' arrest, Mulroy said. He declined to comment about whether charges are likely.
Mayor Jim Strickland and Police Chief Cerelyn "CJ" Davis had previously issued a statement saying body camera footage would be made public after an internal department investigation and after the family viewed it. The police department finished its investigation Friday, which is when the officers were fired.
The officers have been identified as Tadarrius Bean, Demetrius Haley, Emmitt Martin III, Desmond Mills, Jr. and Justin Smith.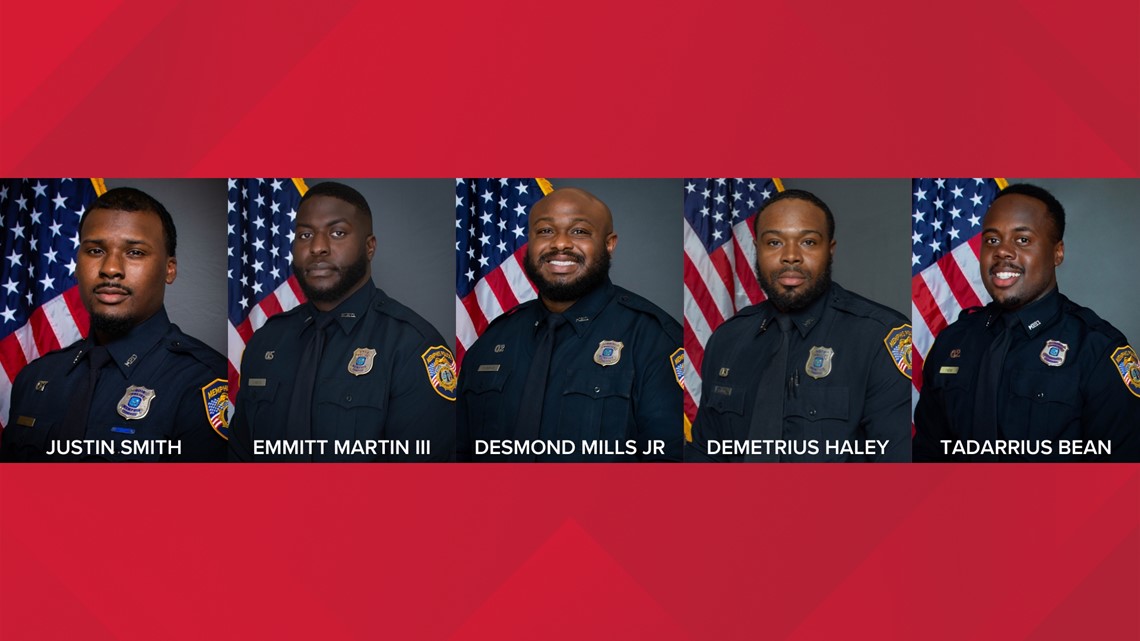 Nichols was arrested Jan. 7, 2023, after officers stopped him for reckless driving. The day after the encounter, police said in a statement that "a confrontation occurred" as officers approached the vehicle and Nichols ran; they said officers caught up to him and that "another confrontation occurred" while they were taking him into custody. Police said Nichols complained of shortness of breath and was taken to a hospital, where he died three days later on Jan. 10.
The Associated Press contributed to this report.