MEMPHIS, Tennessee — UPDATE: 4:30 p.m. - The Arkansas Department of Transportation said Monday the inspector who did the inspection on the I-40 bridge in downtown Memphis in 2019 and 2020 has been fired.
"This is not about the failure of one person," ARDOT Director Lorie Tudor said. "Our investigation revealed negligence and process failure of ARDOT. We should have determined this fracture in 2019 and corrected the flaws in our process."
The director said a drone will be used extensively in future inspections, and they are reviewing the inspection process to ensure this "never happens again." Friday, those with ARDOT conceded the the crack on a support steel beam existed since 2019. Last week, another inspector for the I-40 bridge's cables and upper portion found the crack, shutting down traffic indefinitely on the major east-west interstate connector.
"Everyone involved in this is very aware of the effects of this structure being closed," ARDOT Deputy Director Rex Vines said.
Vines said a team, led by TDOT, will begin work this week to repair the bridge and reopen traffic for cars and trucks. It's a two part process: one, stabilizing the damaged steel beam area and two, replacing that damaged section. A clearer timeline on when traffic can return on some or all lanes of the I-40 bridge is expected sometime this week.
"The hope is phase two, when we get the girder replaced, is when we will be allowed to get traffic back on it," Vines said.
Tudor called the situation unacceptable and promised ARDOT would move up the chain of command to identify other bridge inspection failures and correct them.
"We are in in the process to referring this matter to the proper federal authorities for their determination if further investigation, criminal or otherwise, is warranted," Tudor said.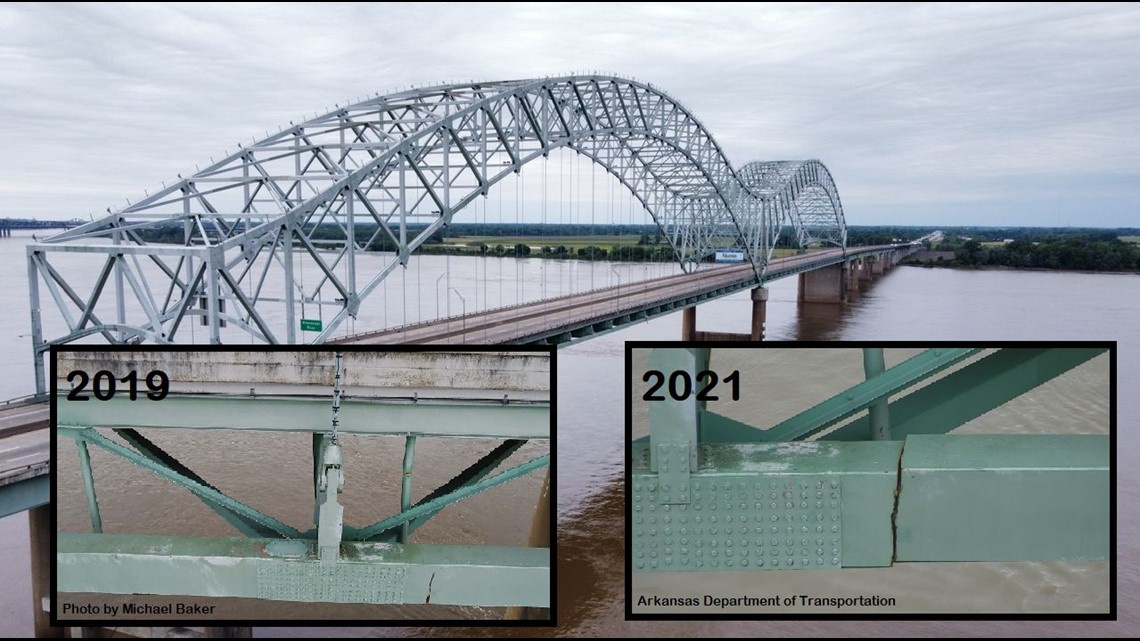 (4:45 p.m. - ARDOT NEWS RELEASE) - The Arkansas Department of Transportation (ARDOT) and Tennessee Department of Transportation (TDOT) have selected Kiewit Corporation to perform the repairs to the Interstate 40 Mississippi River Bridge, according to agency officials.
Kiewit Corporation of Omaha, Nebraska, will begin discussing Phases I and II of the repair process this week. While the I-40 Mississippi River Bridge remains closed, traffic continues to use the Interstate 55 corridor.
"We have requested that the Tennessee DOT perform a drone review of the I-55 Bridge over the Mississippi River to bring confidence to the public that the previous inspection was performed correctly and that it is currently in good condition," ARDOT Director Lorie Tudor said in today's press conference.
TDOT officials stated that the drone review will occur tomorrow or Wednesday, at the latest.
"We understand that in order to regain the public's trust and confidence, we need to be transparent and accountable and we are committed to doing so," Tudor emphasized. "We will correct this problem and become better for it."
--------------------------------------
(1:15 p.m. ARDOT NEWS RELEASE) - The Arkansas Department of Transportation (ARDOT) has confirmed that there was a failure in the inspection process which allowed evidence of damage to the I-40 Mississippi River Bridge to go unnoticed, according to agency officials.
"From our investigation we have determined that the same employee who conducted the inspection in both 2019 and 2020 failed to carry out his responsibilities correctly," Director Lorie Tudor said. "This is unacceptable and this employee has been terminated as of this morning," she continued.
The drone video that showed evidence of this fracture in May of 2019 was taken when Michael Baker International was performing an inspection of the cables and upper portion of the bridge, not the metal supports below. The Department will start changing the inspection process by adding redundancies, with further changes possible in the future.
"A multi-agency team, including two contracting firms and both Departments of Transportation, worked through the weekend," explained Deputy Director & Chief Engineer Rex Vines, "to develop a plan to stabilize the structure, begin planning on a permanent repair, and have started reviewing contractors for the work."
The team will also continue to inspect and investigate the bridge to be sure that any long term damages, caused by the fracture or otherwise, are addressed. The Departments expect to have a rough timeline for returning traffic to the bridge once a contractor has been selected and they have been consulted on the work needed.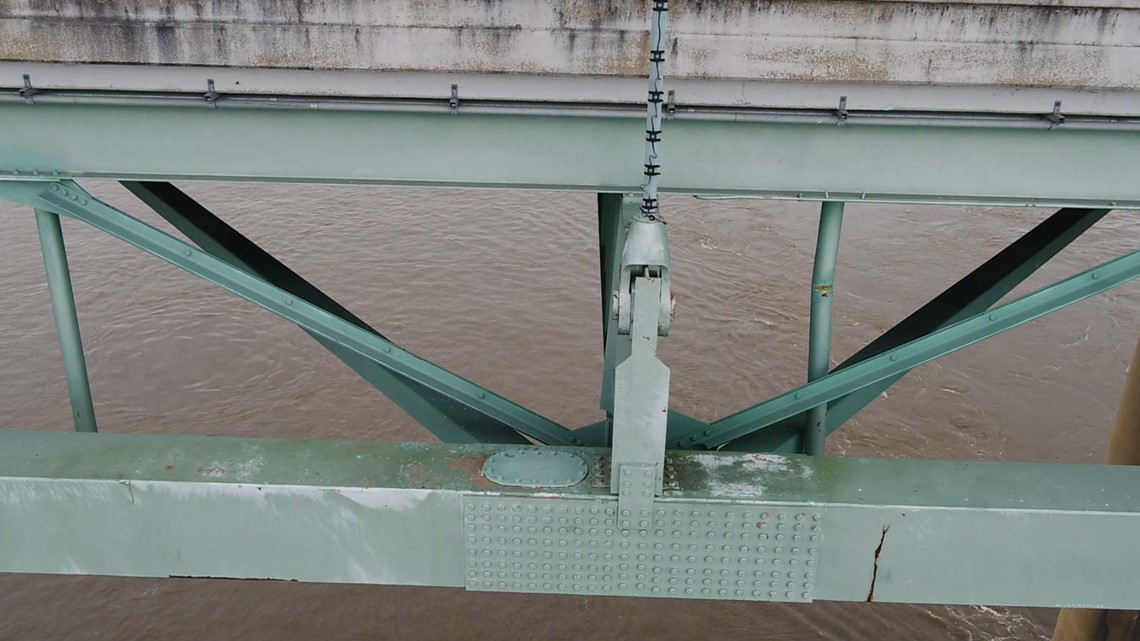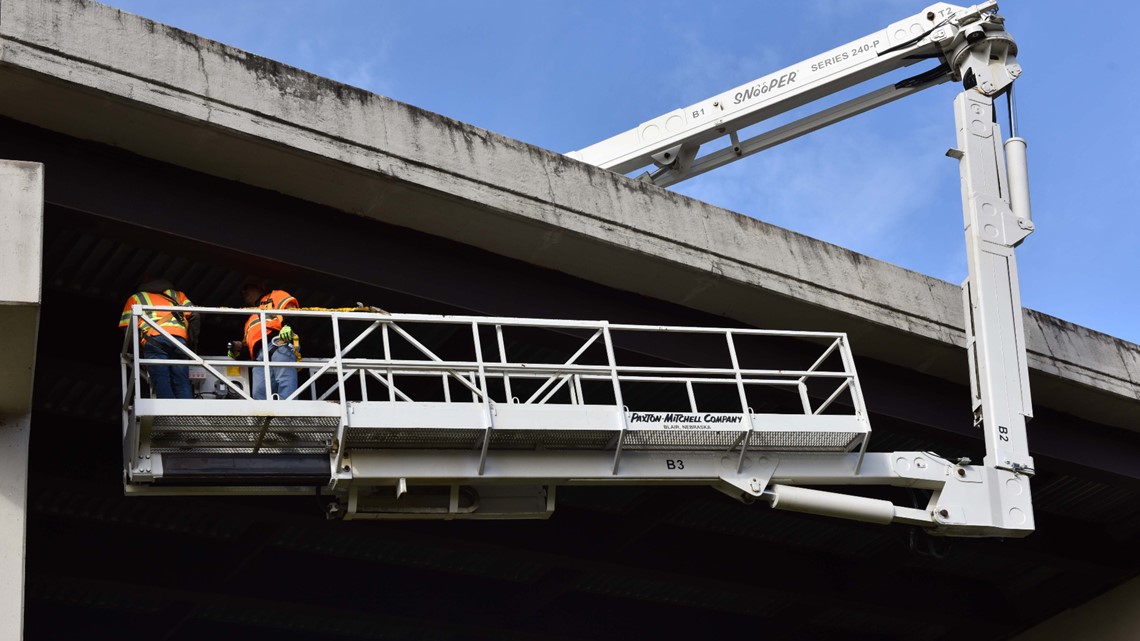 ----------------------------------
12:05 p.m. - Monday afternoon, in a news conference, the Arkansas Department of Transportation (ARDOT) Director and Deputy Director will provide updates on the I-40 Hernando de Soto bridge closure in downtown Memphis, which connects Arkansas and Tennessee.
The 1:00 p.m. update from Little Rock is expected to update the bridge condition, timeline for repairs and findings from an ARDOT investigation.
This could provide a clearer idea on when cars and trucks can again across on the bridge, after all lanes of traffic were closed indefinitely last Tuesday after a routine inspection uncovered a major crack in a steel support beam on the bridge.
ARDOT is in charge of the annual inspections and TDOT is in charge of repairs of the Hernando de Soto bridge connecting the Volunteer State and Natural State.
Transportation leaders estimate around 45,000 vehicles typically cross that bridge each day.
For now, all traffic is now rerouted to the I-55 bridge, making commutes through downtown Memphis much longer and causing truck delays delivering products.
Last Wednesday, the Tennessee Department of Transportation's deputy commissioner said it was plausible the bridge could be closed for cars and trucks for months, not weeks.
Engineers are also considering whether the bridge would be safe to accommodate some open lanes of traffic during repair and construction work.
Friday, the Coast Guard allowed boats carrying cargo barges to again go underneath the I-40 bridge on the Mississippi River. As of Monday morning, a Coast Guard spokesperson said all of the backed up river traffic was cleared late Sunday.
Friday, ARDOT also confirmed images posted on social media, claiming that same crack was on the support beam since 2019, was in fact accurate. This means the crack was not discovered during inspections in 2019 and 2020, when inspectors rated the I-40 bridge in Memphis as in 'fair' condition.
The bridge situation is also drawing increasing national attention.
Sen. Bill Hagerty of Tennessee, a Republican, wrote a letter to President Joe Biden Saturday, urging immediate action.
That letter from Sen. Hagerty read in part: "This situation is affecting the lives and livelihoods of real people right now. Resolving it should not require legislation, nor should it be delayed as politicians in Washington wrangle over the definition of infrastructure. This situation demands an urgent, all-hands approach to address the public safety and economic emergency mounting at my state's western border."
Monday morning, a White House spokesperson sent an email update about the I-40 bridge situation.
That email from the WH included these points:
The (proposed) American Jobs Plan provides $115 billion for roads and bridges, including $50 billion in new funding for bridge repair, rehabilitation, and replacement. The Bridge Improvement Program includes multiple elements: more funding for bridge repair and preservation, a new program to replace 10,000 small bridges off the national highways system, a new program to replace 10 of the most economically significant bridges in the country, and a new program for bridge resilience.
The I-40 bridge is the kind of regionally significant bridge that could be considered for funding under the large bridge program proposed by the American Jobs Plan.
Local 24 News reporter Brad Broders will monitor the 1:00 p.m. news conference from ARDOT and live tweet notable details. You can follow Brad at @Local24Brad. He will also provide updates live on Local 24 News at 5 and 6PM.