Isaias has some company over the middle of the Atlantic Ocean with the potential for additional development following the recent rise and fall of Tropical Depression 10.
Tropical Storm Isaias is currently garnering the most attention as the storm eyes the United States east coast, with the threat of flooding and damaging winds. But, the Atlantic hurricane season is just getting started with the heart of the season more than a month away.
On Friday afternoon at 5 p.m. EDT, Tropical Depression 10 took shape about 200 miles off the west coast of Africa. However, the newly formed system had a brief life-span and succumbed to wind shear and dry air as the first weekend of August progressed.
There are two other potential areas for development, including one that has a better than 50/50 chance of becoming the next tropical depression and storm of the 2020 Atlantic hurricane season.
"We are closely watching an area between Bermuda and the Bahamas," according to AccuWeather Senior Meteorologist Rob Miller.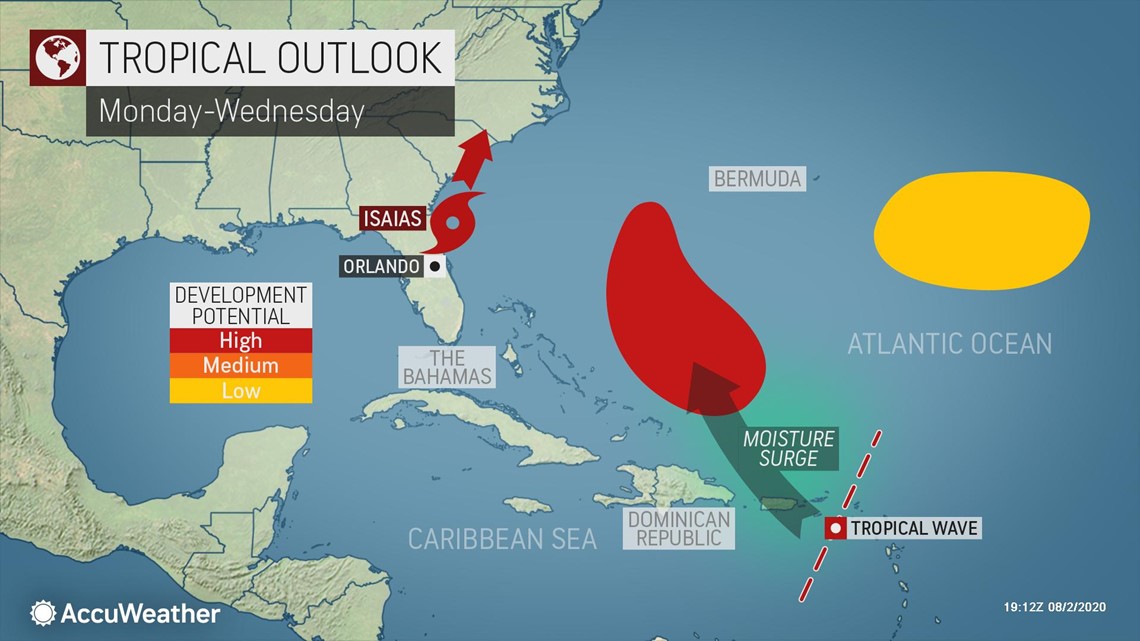 "A tropical disturbance will send some moisture northward into this region and a weak area of low pressure can form, followed by the potential for development of a tropical depression or storm by the middle of this week," Miller added.
This tropical feature may then be absorbed by the same non-tropical system that is likely to pull Isaias across eastern North America. It could wander close to Bermuda during the second half of this week.
There is another area east of Bermuda that bears watching as well. Although development potential is only on the order of 20% or so. This area would try to come about along a cold front and may transition to a tropical feature next week. This feature is not likely to affect any land areas, but could be a concern for mid-ocean shipping were it to develop.
In addition to these two potential development areas, the series of tropical disturbances, known as tropical waves, will continue to march westward from Africa in the coming weeks and months.
This is known as the Cabo Verde season and represents the backbone of the Atlantic hurricane season. Cabo Verde are a group of islands located off the northwest coast of Africa. A tropical wave typically moves off the Africa coast every 1-3 days this time of the year.
Occasionally these waves can overcome areas of dry air and wind shear and evolve into tropical depressions, tropical storms or hurricanes.
Tropical Depression 10 was born from a Cabo Verde tropical wave.
The next names on the list of tropical storms for 2020 in the Atlantic are Josephine and Kyle.
Given 2020's track record for cranking out early season formation records with each storm from Edouard through Isaias setting new marks and replacing those set during the infamous 2005 season, both Josephine and Kyle stand a good chance of continuing that pace, even if neither of the two storms are on the map through the first week or so of August.
The "J-storm" record is currently held by Jose on Aug. 22, 2005 and the "K-storm" record is currently held by one of the deadliest and costliest hurricanes on record, also set in 2005 by Katrina on the 24th.
While the period from late August through the middle of September marks the most dramatic increase in tropical activity on an annual basis, the 2020 season has already demonstrated that this will be a well-above-average season.
AccuWeather lead tropical forecaster Dan Kottlowski and his colleagues say there is a chance that this year could become "hyperactive" in terms of the storms that develop. Up to 24 named-tropical systems are possible, according to the tropical team's latest long-range outlook. This would be close to the record-setting 2005 season in which 28 storms developed.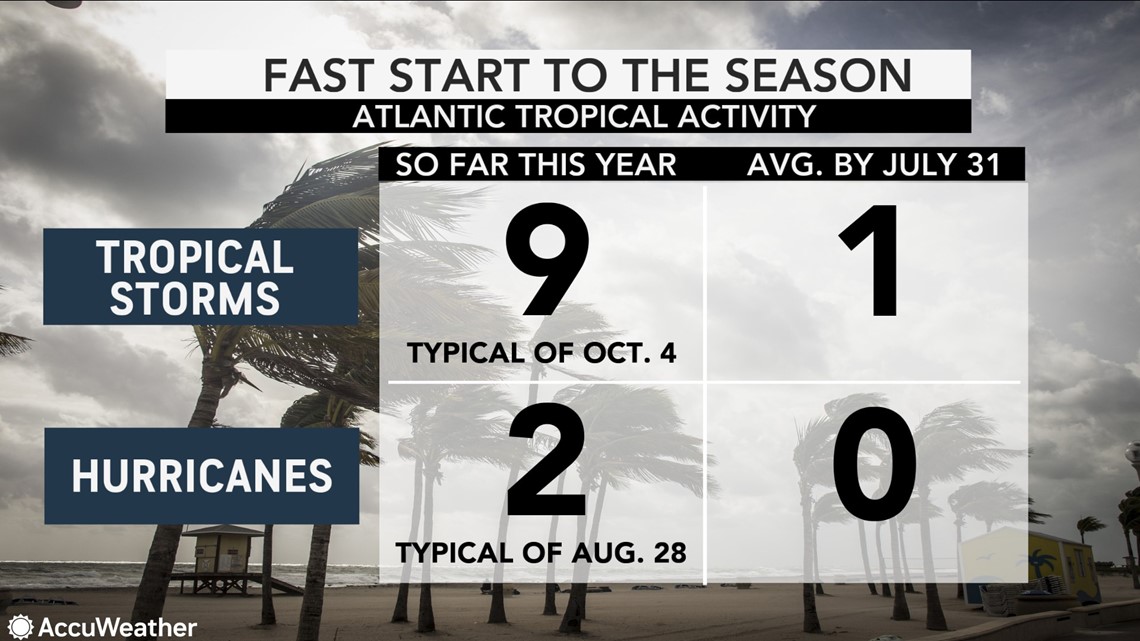 Nine named storms have already formed, including two hurricanes, which is well ahead of the traditional pace. Six out of nine of the tropical storms to date have been record-setters in terms of early formation for their respective letters. In some years, there aren't enough named systems to make it this deep into the rotating list of Atlantic tropical names.
Kottlowski pointed out that four named storms have already made landfall in the U.S. before the end of July, and a fifth, Arthur, brought some impacts to North Carolina in May. Isaias will likely be the fifth by Monday evening.
"That's very remarkable through July," Kottlowski said. "It's very unusual for us to see that many impacts, landfalls especially, so early in the season."