July is known for ushering in the hottest days of the year, but last month was especially tenacious. Blistering heat swept across the U.S. and shattered a slew of new records for the month.
Phoenix, Arizona, experienced its hottest month on record in July 2020 with 99 degrees Fahrenheit as the city's average temperature. The new record outpaced the 98.3-degree average temperature recorded in July 2009 and again in August 2011.
"July set the record not only for the hottest July on record, but the hottest overall month in recorded history for the city," AccuWeather Meteorologist Maxwell Gawryla said. "This heat looks to continue through much of the foreseeable future with AccuWeather forecasting above-average highs through at least the next week."
Gawryla said the city will face a few days in the upcoming week that break 110 degrees, a solid five to six degrees higher than the average highs. So far this summer, Phoenix has already experienced 26 days in which the high temperature eclipsed 110 degrees. The current record is 33 days in one summer.
"Part of the reason for the heat across the southwest is due to a strong, persistent ridge of high pressure centered over the area," he said.
Similarly, another ridge of high pressure lingered over the eastern U.S., which led to the record highs in the many cities.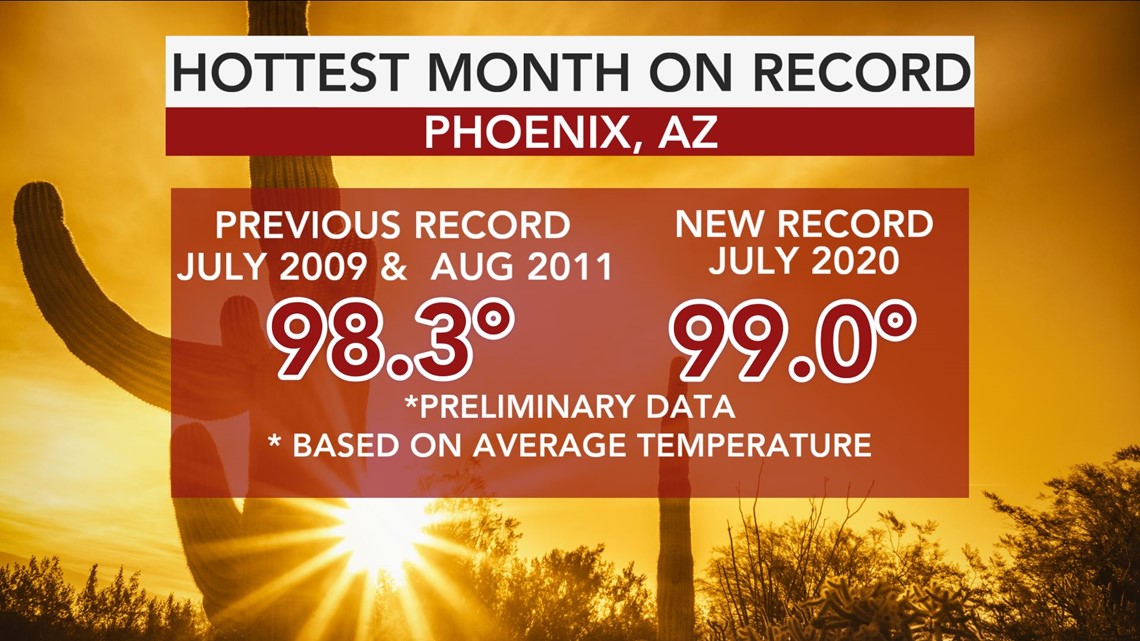 Residents in the desert Southwest weren't the only ones sweltering through the dog days of summer. Unusually hot weather was also recorded across much of the East. State College, home to AccuWeather's worldwide headquarters, Harrisburg and Scranton, Pennsylvania, all reported the hottest month on record in July, breaking previous records that dated back to the 1990s.
July 2020 ranked as the third-hottest month ever in Philadelphia, Reading and Williamsport, and Erie recorded its second-hottest month.
The month brought all-time records for some other major cities across the eastern U.S., such as Washington D.C. and Philadelphia, both of which broke daily records throughout the month. More than two dozen of these record-breaking locations not only saw their warmest July on record, but also made it through their warmest month ever recorded.
"Washington, D.C., experienced a record-setting 28 out of 31 days with high temperatures matching or exceeding 90 degrees. Philadelphia also set a record for the most 90-degree days in a month with 21 days of 90 [degree or higher] heat," Gawryla said.
Farther south, Miami, Florida, known for its heat, also just broke some records in a blistering month. Last month was the hottest July on record as well as the hottest month on record overall for the city at 85.9 degrees, beating the previous record by just 0.2 of a degree, according to Research Associate at University of Miami's Rosenstiel School, Brian McNoldy. McNoldy shared the statistics to twitter, writing #ThisIsNotNormal. Additionally, 2020 is currently holding the hottest year-to-date temperature for Miami at 79.9 degrees.
According to AccuWeather Senior Meteorologist Dale Mohler, heat waves typically only strike small portions of the country at a time.
The heat wave in Phoenix was the result of a late arrival of moisture coming from Mexico, according to Mohler.
"Normally, moisture from Mexico flows north into Arizona during July, triggering showers and thunderstorms, which start to lower afternoon temperatures," he said. "That really did not happen this year."
Meanwhile, higher temperatures from the middle of Florida traveled east into Miami, meaning the city's heat waves came from separate air masses.
For Pennsylvania, a dry west wind prevented moisture from the Gulf of Mexico from creeping into the state, which led to the ground drying up. Consequently, less moisture was available to evaporate and cool the air.
"Without the lower levels being cooled, the surface temperatures were able to heat up more efficiently and the result was the hottest July on record in State College," Mohler said.
"It's not very common for Phoenix, Miami and State College to all have hot weather for as long a period as we saw this past July," he said.
With heat expected to continue, New York City Emergency Management Department Commissioner Deanne Criswell has emphasized the importance of weather safety.
"Heat is what I would call that 'invisible killer,'" Criswell told AccuWeather's Dexter Henry. "There are more people that die from heat-related illnesses than any other natural disaster every year."
Some cities, such as New York, have opened cooling centers to keep residents safe during the most scorching months. Due to COVID-19 restrictions, however, some are concerned about the ability to effectively open them.
Deanne said that restrictions have allowed for cooling centers to open; however, it has become a challenge to open them while still factoring in social distancing. The most vulnerable demographic to heat are senior citizens over the age of 60, who are also at highest risk with COVID-19, providing another challenge for the city.
"We do have a lot of limitations this year," Deanne said.
Additional reporting by Dexter Henry