Following a line of severe thunderstorms that produced hail and wind damage, and even a possible tornado near Dallas, on Tuesday, forecasters say that a repeat performance may be in store farther east on Wednesday.
Portions of southern Kansas, Oklahoma and northern Texas endured thunderstorms that dropped hail up to the size of golf balls and caused winds over 60 mph on Tuesday afternoon and Tuesday evening. By late Tuesday night, the thunderstorms that caused the adverse weather weakened quickly over central Arkansas and far eastern Texas. However, heavy rain was still falling.
This area of thunderstorms will continue to weaken on Wednesday morning. As the cold front that helped to fire up the storms moves eastward on Wednesday, the threat for dicey weather will shift with it.
That said, there a couple of mitigating factors that may temper the severe weather threat somewhat on Wednesday.
The first is an abundance of cloud cover over southern Illinois, southern Indiana, western and central Kentucky and Tennessee, northern Louisiana, northern and central Mississippi and northwestern Alabama. These are the very areas that are at risk for severe thunderstorms on Wednesday. Even though the sun is relatively low in the sky this time of year, daytime heating still helps to intensify storms.
The second factor is that a ripple in the atmosphere that aided in the development of the rough weather on Tuesday is lifting well to the north. These ripples hope to add energy to any thunderstorms that form. Since the energy will be well removed from the area, the thunderstorms may not be as robust.
Even with those factors working against any development of strong to severe thunderstorms, the cold front will still act as a focus for storms. Paducah, Kentucky; Memphis and Nashville, Tennessee; Tupelo and Jackson, Mississippi; and Huntsville, Alabama, will be some locations with a risk of severe weather on Wednesday.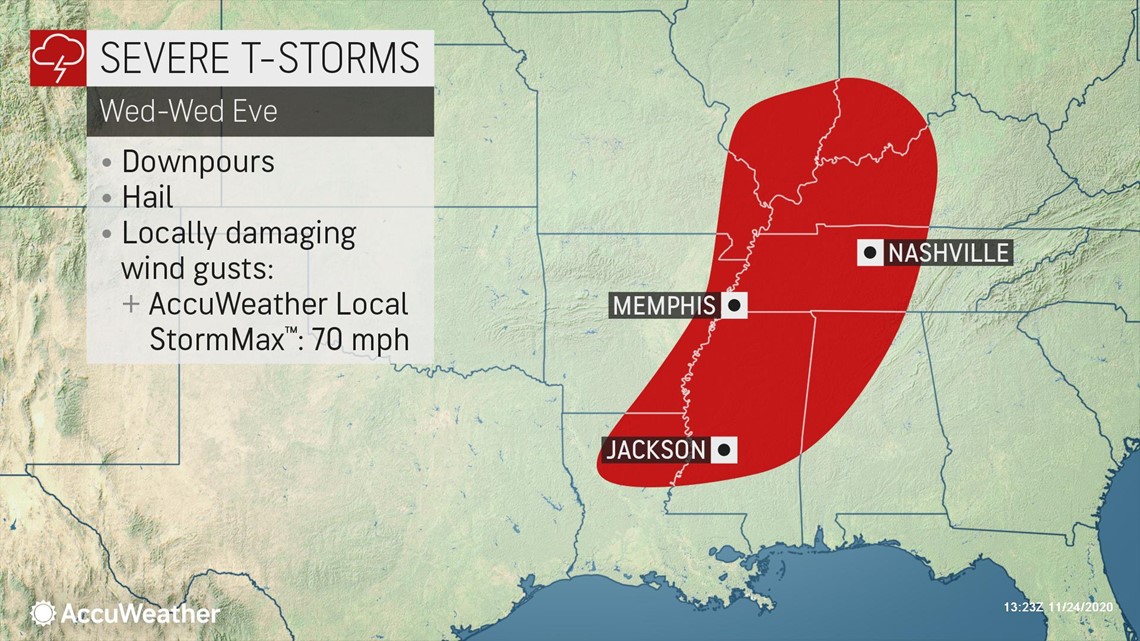 "Damaging winds and downpours that drastically reduce visibility on the roadways are likely to be the greatest threats from the storms. Depending on the severity of the storms, some communities could be left without power heading into Thanksgiving Day," said AccuWeather Meteorologist Renee Duff.
The storms will move well off to the south and east by Thursday.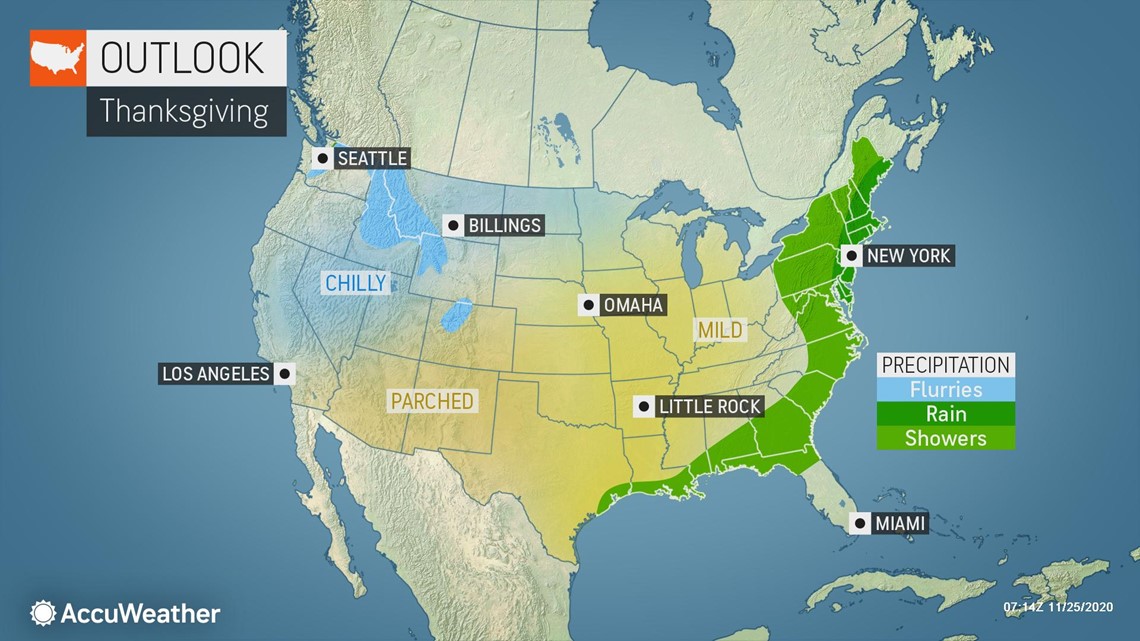 "The good news is that the storms will exit the area by the holiday, and it will actually be rather pleasant behind the front with dry conditions, low humidity and temperatures a few degrees above normal on Thursday," Duff said.
Unfortunately, the break may be short-lived as downpours and, potentially, even a significant storm, could be in the offing after Thanksgiving.