JONESBORO, Ark — UPDATED 3/29/2020 3:20 p.m.: The National Weather Service in Memphis survey team has rated the Jonesboro tornado an EF-3, with maximum winds of 140 mph.
---------------------------
UPDATED 3/29/2020 12:41 p.m.:
---------------------------------
UPDATED 3/29/2020, 11:00 a.m.: The City of Jonesboro confirms 22 people were injured in Saturday's tornado; all minor injuries.
Curfew will be in effect tonight from 9:00 p.m. to 6:00 a.m. This does not affect those going to work.
A lot of homes were damaged in addition to businesses. These pictures are from a neighborhood in the northeast part of the city.


While almost every vehicle on the street is damaged, believe it or not, this 1995 pickup truck, given to Jordon Nelson from his grandfather, doesn't have a scratch on it, even though pieces from the roof of the house are on it.

This is a look at the neighborhood from Jordon's backyard. Every house in the neighborhood had a fenced-in back yard. Thankfully Jordon was not home when the tornado hit.

The pictures below are from Local 24 Photojournalist Janice Bridges who went to Jonesboro Sunday morning. These are of just a few of the businesses damaged and damage to a neighborhood on Prospect Rd.



---------------------------------------------------------
UPDATED: 3/28/2020 - A tornado ripped through Jonesboro Saturday afternoon, leaving a lot of destruction in its path.
First responders, along with the American Red Cross and Salvation Army, set up staging to plan clean up and relief efforts.
Mayor of Jonesboro Harold Perrin, along with first responders, are still canvassing neighborhoods to count the number of injuries. Saturday evening officials counted six.
Turtle Creek Mall was hit heavily by the storm. Most of the building was destroyed and what was a Barnes & Noble store and a Best Buy store were unrecognizable. Perrin said he was grateful people were social distancing by not being at the mall because there could have been fatalities or more injuries.
"I think those numbers would have been much higher if the Coronavirus had not been out," Perrin said.
Pictures: Tornado tears through Jonesboro, AR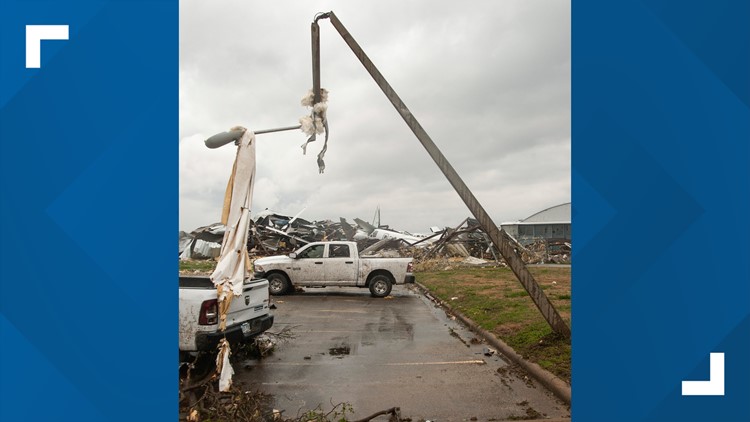 Lorrenzo Hampton, who lives in Jonesboro, watched as the storm formed and the destruction unfolded.
"Like, when you're looking at it, you can see it swirling and the clouds were so low to the ground," Hampton said. "You can actually see it forming, like, I was so close to it I could see it forming."
The Jonesboro Police Department plans to have a briefing at 10:00 a.m. on Sunday to talk about clean-up efforts and community resources.