MEMPHIS, Tenn —
What you need to know
Freezing rain will create icy conditions tonight and tomorrow night
Slick roads and power outages are possible in some areas
Rain likely on Thursday as temperatures climb
What is freezing rain?
All precipitation starts as snow way up in the clouds, where temperatures are well below freezing. Sometimes, a "warm layer" is present where temperatures climb above freezing. This allows that snow to melt as it falls. In the case of freezing rain, temperatures are below freezing on the ground but above freezing just above the ground. This means it looks like it's raining, but that rain is actually freezing into ice as soon as it hits the ground.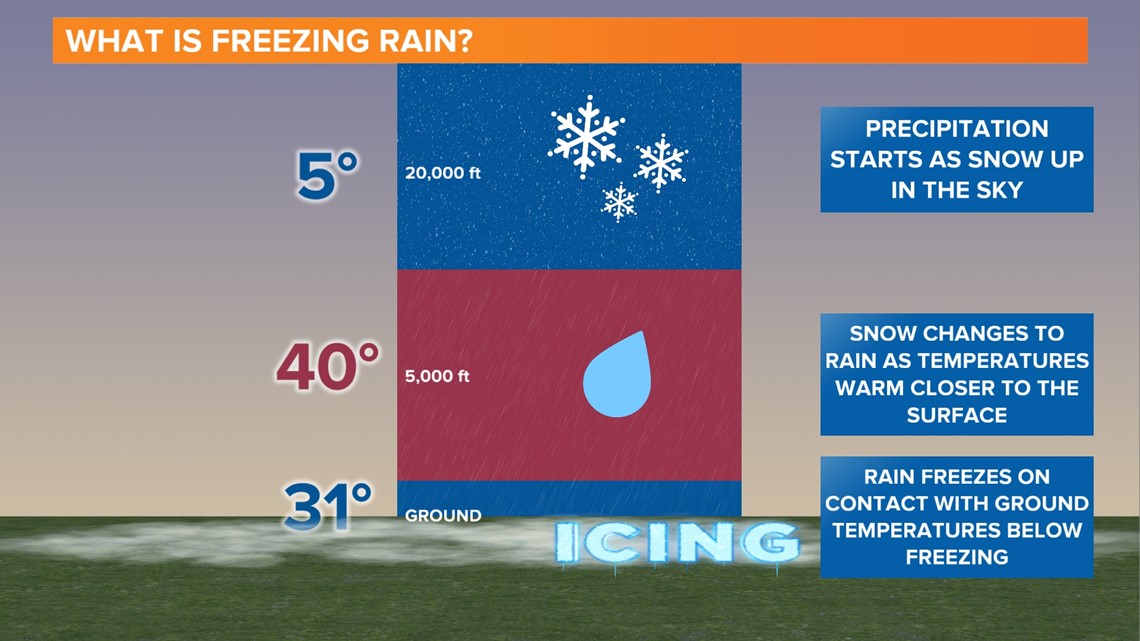 Today and tonight
We'll see some light mist and drizzle early this morning, but most of the day will be dry and cloudy with temperatures in the 30s. Rain will begin to move into the area by 8pm tonight, and with temperatures falling below freezing, this rain will freeze into ice in many spots. Ice accumulations tonight could be as high as a quarter of an inch in some spots, which could lead to power outages and slick roads by Tuesday morning.
Tuesday and Tuesday night
Temperatures will climb to the mid 30s and above freezing Tuesday afternoon, so this could help to melt a little of that ice. Rain showers will remain possible, with steadier rain returning Tuesday evening and Tuesday night. Once again, temperatures will fall to below freezing, and this will bring another round of freezing rain and ice to the area Tuesday night. Again, slick spots and power outages are possible Wednesday morning.
How much ice?
Many areas in the Mid-South will see ice accumulations of a tenth to a quarter of an inch total over the next 3 days. Keep in mind that some of this could melt on Tuesday before the next round of freezing rain adds more ice, so there may not be this much ice accumulation at a single given time. Ice accumulations will be lowest in North Mississippi, with some areas only seeing a glaze.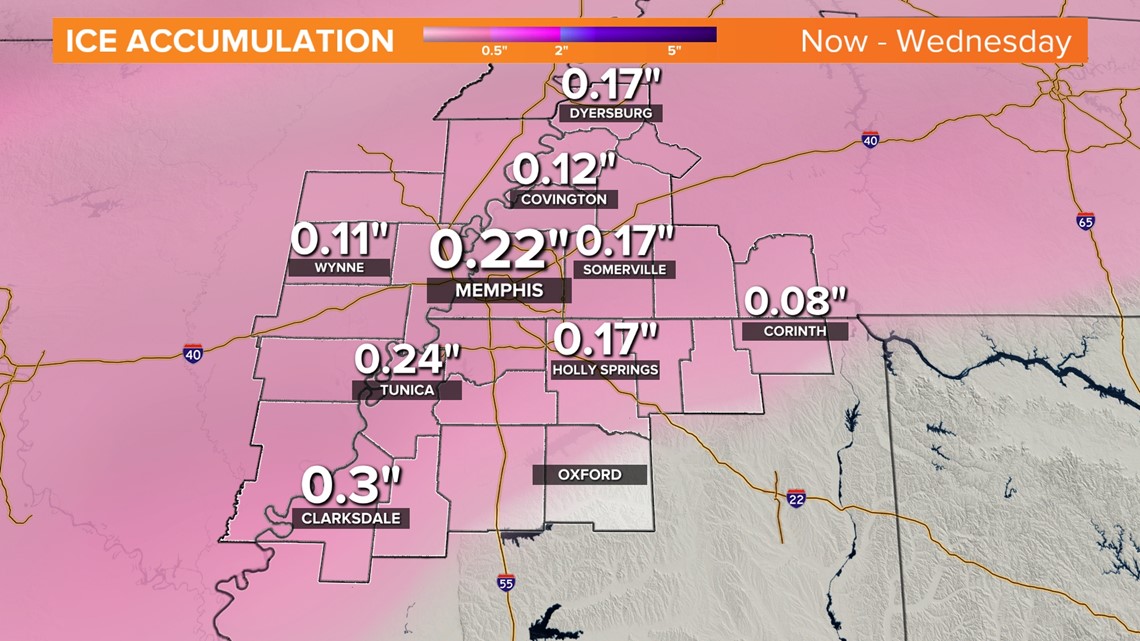 Even small amounts of ice accumulations can weigh down power lines and cause power outages. Roads could be slick, with bridges, overpasses, and flyovers becoming slick the fastest.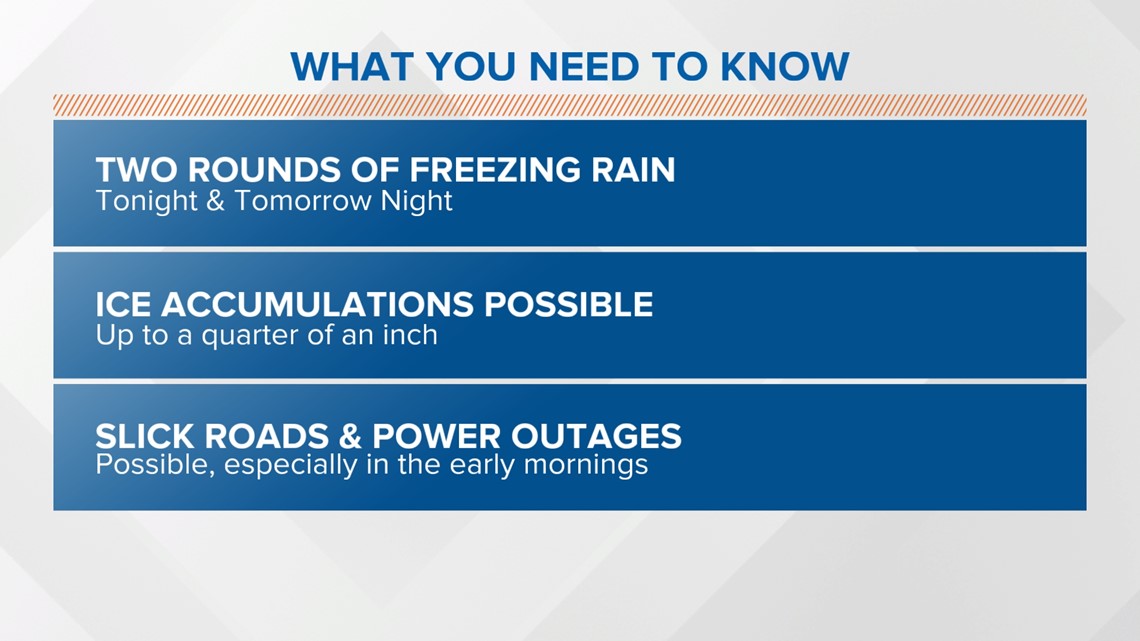 Wednesday and beyond
Spotty rain showers will be possible through the day on Wednesday with highs in the mid to upper 30s. Temperatures will stay above freezing Wednesday night into Thursday, so any precipitation will stay as just rain.
More rain is likely on Thursday, but with highs in the 40s, this round will be all rain.
Rain will clear out Thursday night, and we'll be dry for Friday and the weekend. In fact, we'll even see some sunshine. Highs will be in the 40s and 50s.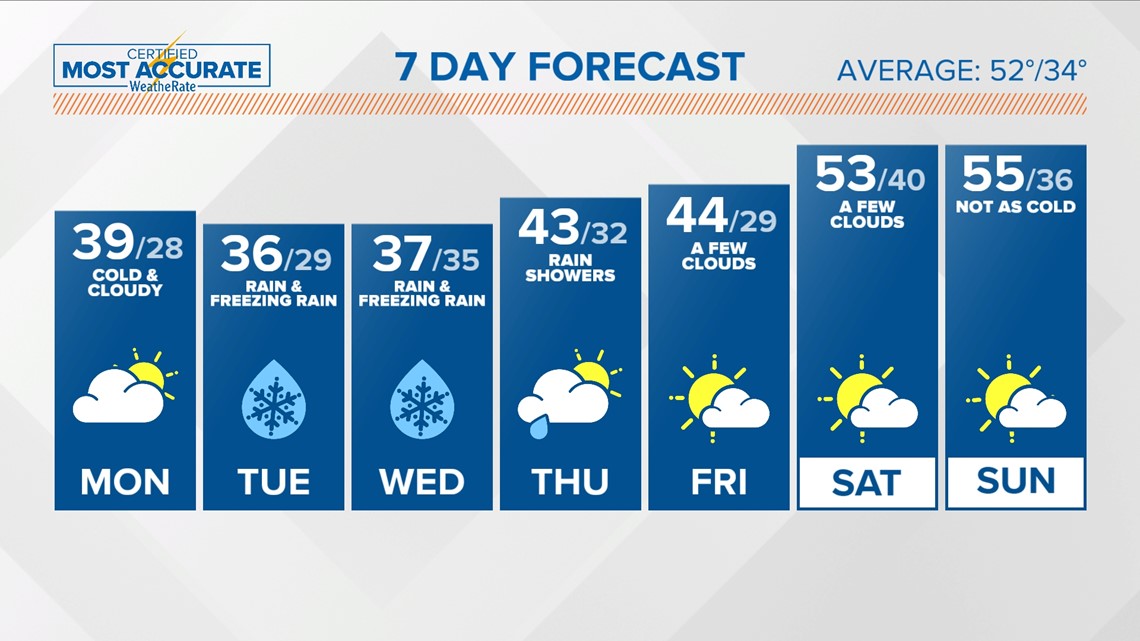 If you have any pictures of storm damage when storms hit the Mid-South, we would love to see them if you can take a picture safely. Download our ABC24 app (iPhone | Android) and click on the "Share It" button.