MEMPHIS, Tenn. — 75 million Americans are under an air quality alert, including in Tennessee. It's all because of smoke from Canadian wildfires, making its way through the US.
Flights were grounded at New York's LaGuardia airport earlier today and people are being advised to stay indoors. Rashida Maples, a native Memphian now living in New York said the smoke is triggering – relating having to wear masks again to her fears of reliving the pandemic.
"I live on the 22nd floor and I have a view of Manhattan," Maples said. "All of the buildings were completely hidden from the fog the smog the smoke everything – so it literally looked like Armageddon."
New York city and much of the northeast is dealing with the dangerous air quality from wildfires burning hundreds of miles away.
"I mean compared to a regular day, compared to how it looks in the south, how it looks in Memphis or any of the other cities that aren't affected by it," Maples said. It looks terrible. And you can smell the smoke – I can smell the smoke in my apartment."
The impact even being felt in the mid-south, prompting the Shelby County Health Department to warn Memphians about what's in the air. The department released this a Special Air Quality statement Wednesday afternoon announcing the unusually high particle pollution because of smoke from the Canadian wildfires.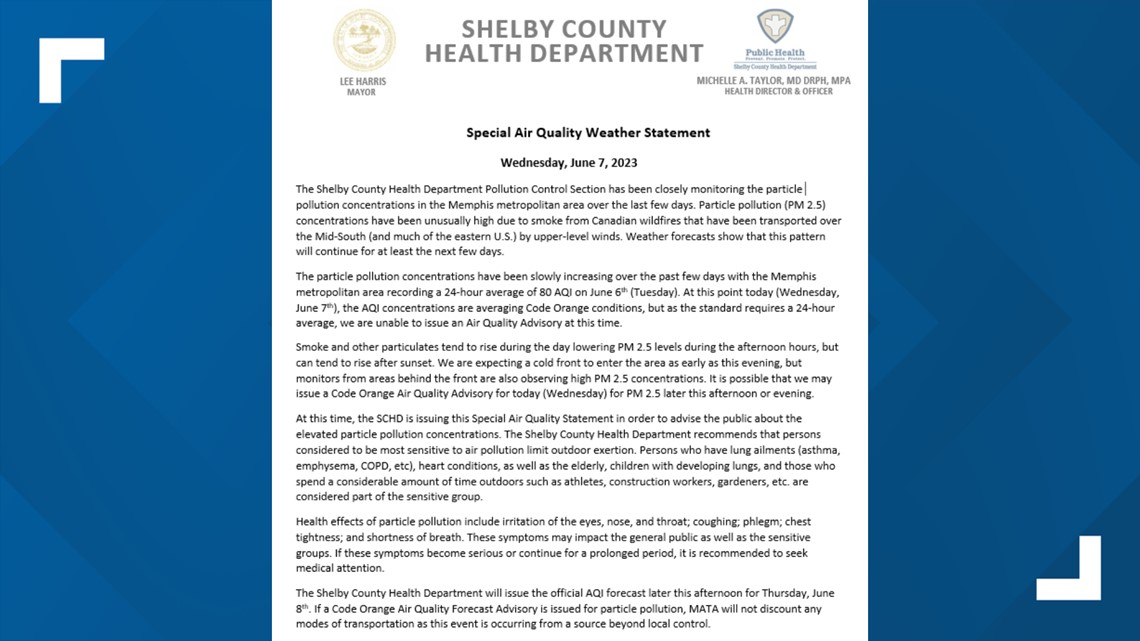 The CDC recommends staying indoors if you're in a heavily polluted area and if you have to be outside for an extended period of time, it's a good idea to wear a mask.
The CDC recommends an n95 or p100 mask – both can protect you from inhaling excessive smoke and ash.
Also – if you're planning on flying at all in the next few days -- check with your airline because the limited visibility -- is having ripple effects in airports across the country.
The Federal Aviation Administration has already started slowing some traffic heading to Philadelphia international airport tonight due to reduced visibility from that wildfire smoke.