MEMPHIS, Tenn. — It's possible that once you set your clocks ahead next March, you'll never have to change them again. But what would that mean for Memphis?
Under the current system of time changes, clocks move ahead one hour in March and backwards one hour in November. This helps to ensure extra sunlight in the evening hours in summer, when many people are trying to enjoy outdoor activities.
But, time changes don't come without controversy.
Scientists say changing time twice a year affects your body's circadian rhythm, leading to more accidents and health issues.
Combine that with the general complaints about losing an hour of sleep and having to remember how to change your car's clock, and you may have a hard time finding too many supporters of the current system of time changes.
What would a year-round Daylight Saving Time look like?
While this proposal won't change the total amount of daylight, it will shift sunrise and sunset times ahead one hour in the winter months.
As of right now, the latest sunrise all year in Memphis happens on January 9th at 7:09 a.m. If Daylight Saving Time is kept all year, the sun wouldn't rise until after 8 a.m. between December 14th and January 30th. The latest sunrise would be at 8:09 a.m. This would lead to a pretty dark morning commute for a couple of months of the year.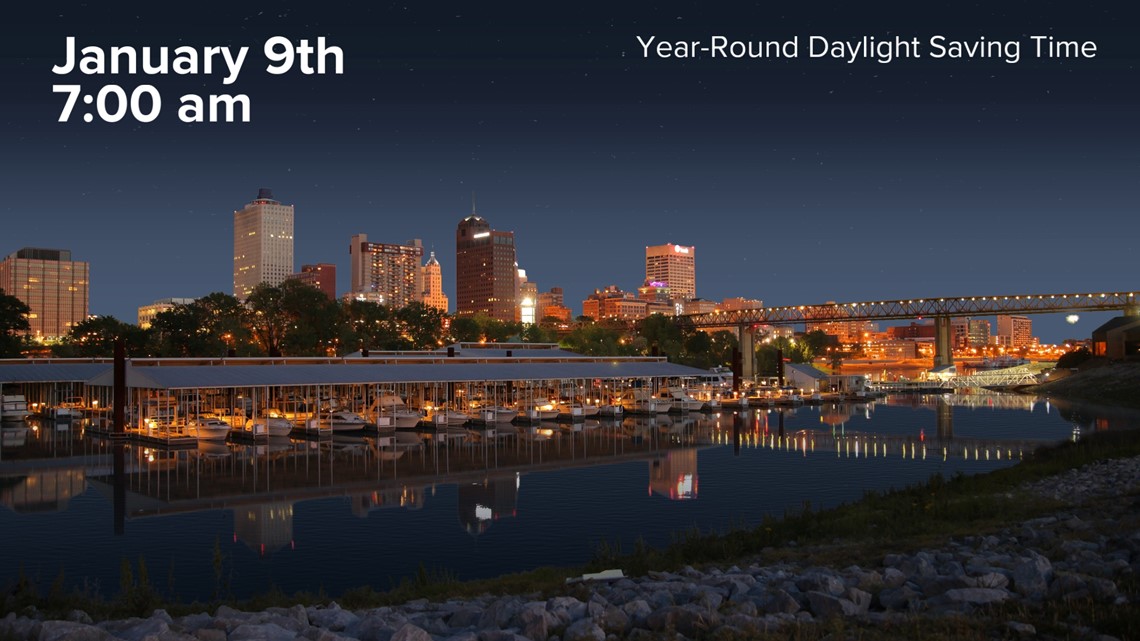 Later sunrises also mean later sunsets. Under the current system, the sun sets before 6 p.m. in Memphis between November 6th and March 5th, with the earliest sunset happening on December 6th at 4:47 p.m.
If we remain on Daylight Saving Time, the sun will only set before 6 p.m. between November 9th and January 1st, and Memphis would never have a sunset earlier than 5:45 p.m.
This isn't the first time the United States has tried to keep Daylight Saving Time year-round. In the 1970s, President Richard Nixon signed a bill to do without time changes.
The public quickly raised concerns about children waiting at bus stops in completely dark conditions. The idea was scrapped, and time changes resumed about 16 months later.