ATLANTA — September 10th marks the climatological 'peak' of the Atlantic Hurricane Season.
About 75 percent of Atlantic hurricane seasons since the start of the weather satellite era have had a named storm on this date.
The 'Tropical Timeline' chart below shows the tropical frequency throughout the season, which starts June 1st and ends November 30th. Historically, the months of September and October are active before tropical activity tapers off in the last month of the season.
To date, there have been 13 named storms in the 2021 season, 5 of which were hurricanes.
North Georgia has been impacted by three of these tropical systems. Claudette brought heavy rain rain to North Georgia Father's Day weekend and downed some trees. July featured a lull in tropical activity. In mid-August, Fred produced 6 tornadoes in the area along with heavy rains. At the end of August, Ida passed north of the state but still brought tropical rain bands over the state as well.
NOAA does predict a more active than average season as a whole, with a particularly active second half of the season possible with the forecast of a developing La Nina. In their updated season outlook released August 4th, they call for a total of 15 to 21 named storms, 7 to 10 of which reaching hurricane status, and 3 to 5 major hurricanes.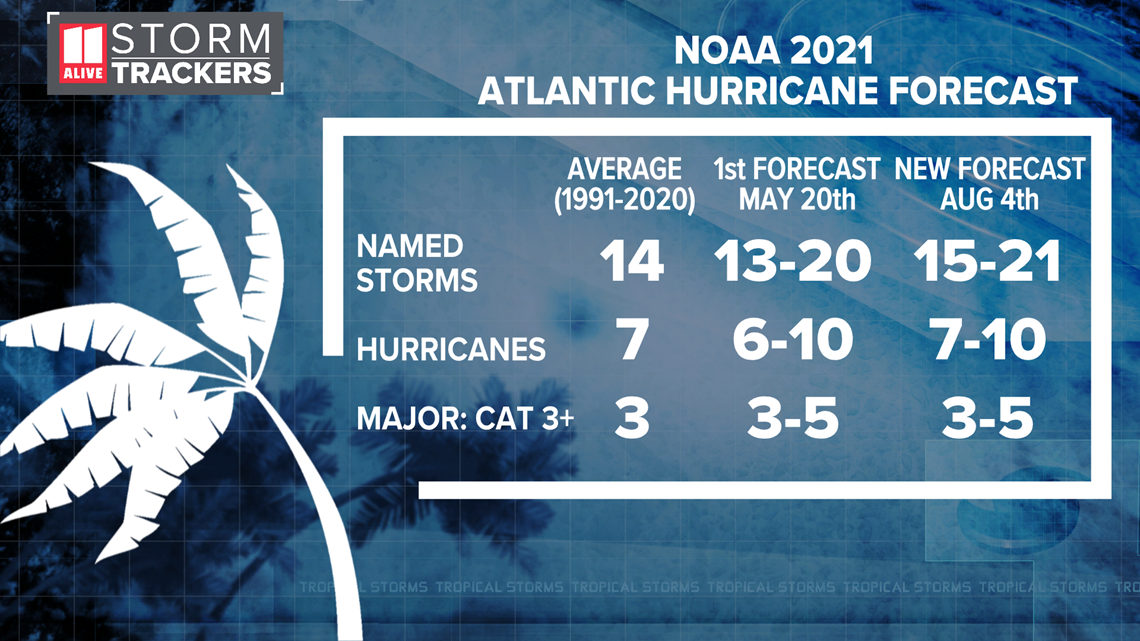 In the month of September, tropical cyclone formation can be very favorable within the Gulf of Mexico and the Atlantic from the Leeward Islands and southeastern U.S. coastline to the Outer Banks.