MEMPHIS, Tenn. — Severe weather can happen at any point in the year in the Southeastern United States, so it's important to always be prepared.
April, May, and November, and December are the busiest months for tornadoes in the Memphis area, and usually happen in the afternoon and evening hours.
Check out some of these quick facts about severe weather, safety tips, and ways to get involved.
What's the difference between a watch and a warning?
A watch is issued several hours before severe weather strikes. It means ingredients are in place for dangerous weather to develop. In the case of a Tornado Watch, a tornado could develop soon. You should keep a close eye on the weather for the next few hours.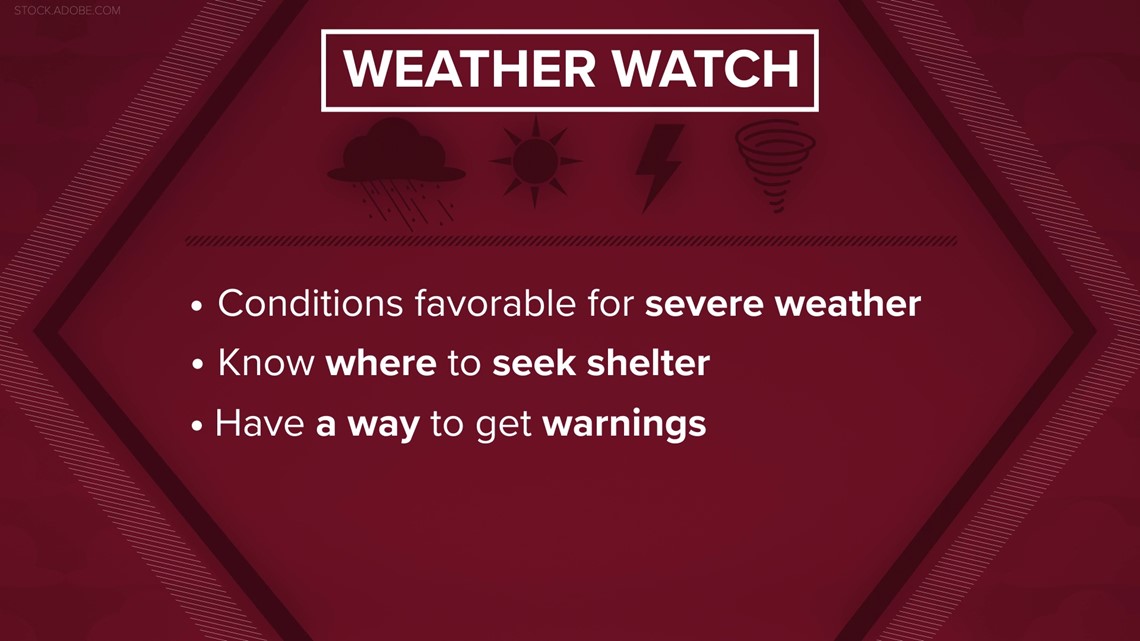 When a warning is issued, it means the severe weather is happening right now. If a Tornado Warning is issued, it means a tornado has either been spotted or is expected to develop based on weather radar. You should immediately take action and go to a safe place.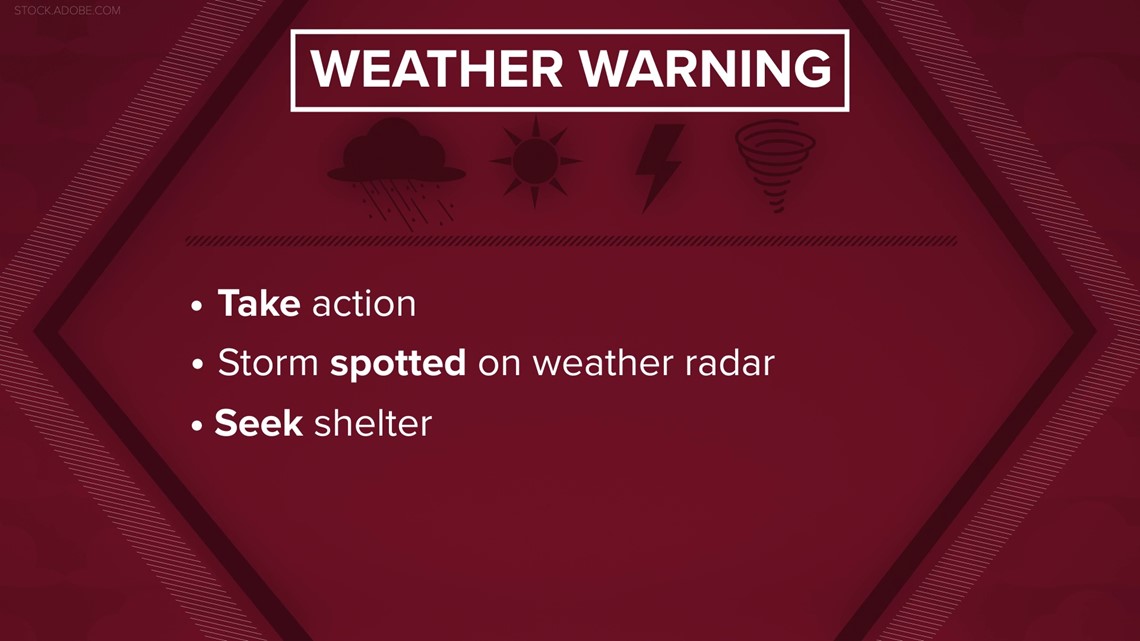 Rarely, the National Weather Service will issue a Tornado Emergency. These alerts are reserved for extreme situations, such as a large tornado moving into a very highly populated area. It means there is an immediate threat to life and property and you must take action to go to a safe place.
How will I hear about a weather alert if one is issued?
It's recommended that you have several ways to get weather alerts, just in case one fails. You should also have a way to be woken up by a weather alert in case one is issued for your location.
You can purchase a NOAA Weather Radio for about $30 at most supermarkets.
You should also make sure Wireless Emergency Alerts are active on your mobile phone. These are the loud alerts that are sent out for dangerous weather, public emergencies, and AMBER alerts. Check your phone's settings to make sure these are turned on.
Television, radio, phone apps, and tornado sirens are other ways you can get the alert.
Never rely on tornado sirens as your primary way to get a weather alert inside your home. They are meant to be heard outdoors only.
Where should I go during a Tornado Warning?
If a Tornado Warning is issued, it means a tornado has either been sighted or is about to form. You should go to the lowest floor of the building you're currently in and find an interior room such as a bathroom or closet to shelter in. Try to put as many walls between you and the outside as possible. Consider putting on a helmet or even a pillow or cooking pot to cover your head.
If you live in an apartment or condo building, make a plan ahead of time to seek shelter with a downstairs neighbor or in a common area.
If you're driving when a Tornado Warning is issued, stop immediately. Find a gas station, bank, or restaurant to seek shelter in. As an absolute last resort, lie flat in a ditch and cover your head. Never seek shelter under a highway overpass. Winds can actually be faster there.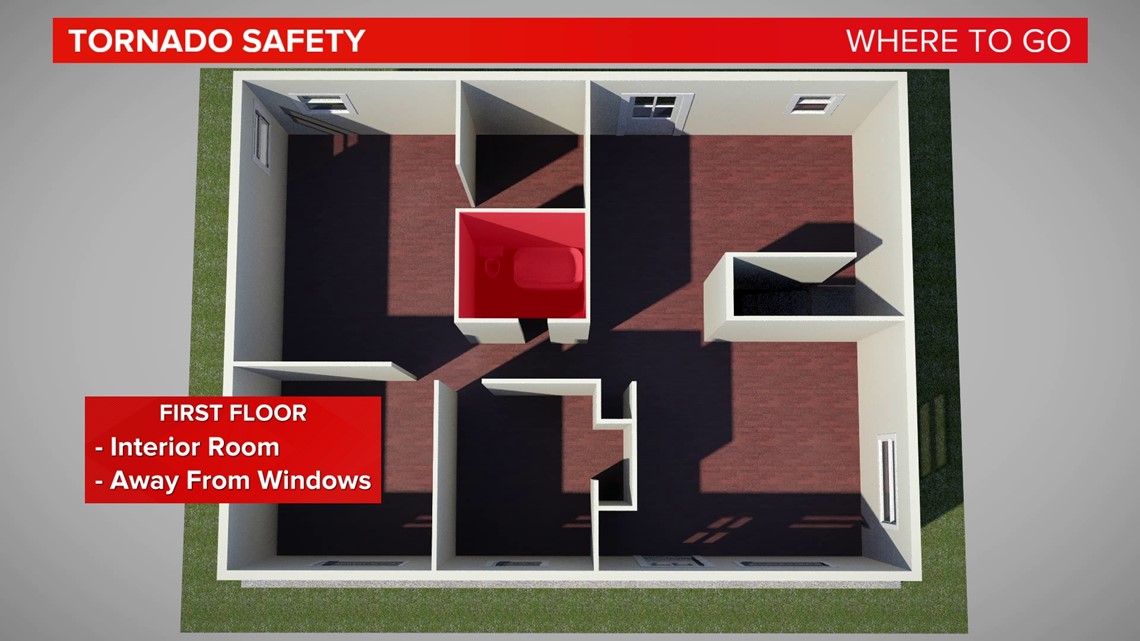 How can I help the National Weather Service? Can I be a storm spotter?
SKYWARN storm spotters help the National Weather Service by relaying reports of what is happening on the ground. Radar can only detect what's happening in the clouds, so spotters fill in the gap of what's happening below.
The National Weather Service frequently hosts storm spotter training sessions, both in person and virtually. They are open to anyone and no registration is required. You can check out the full schedule here.
Can tornadoes even hit cities?
It's a common misconception that tornadoes don't hit cities. Several tornadoes have hit downtown areas, including Atlanta in 2008 and Nashville in both 1998 and 2020. It's important to be prepared for severe weather no matter where you live.
What other kinds of dangerous weather can impact the area?
The Southeastern United States sees all kinds of threats from the weather. Tornadoes are often considered the most dangerous, but many times, flooding and heat cause the most fatalities. Lightning, hail, winter weather, and damaging winds can also be dangerous.